PENTAX-01 Standard Prime Lens
With a focal length equivalent to 47mm in the 35mm format, the PENTAX-01 Standard Prime lens is an outstanding prime lens for everyday use, sporting a magnification similar to that of the human eye. It offers a maximum aperture of F1.9 for superb light gathering and depth of field control. Incorporating two high-grade aspherical optical elements, this lens compensates various aberrations to a minimum and features PENTAX lens coating technology for beautifully defined, high contrast images with minimal flare. Lens shutter features 5 aperture blades and syncs with the Q's built-in flash at speeds up to 1/2000 sec. Neutral Density filter allows for open aperture photography in bright settings.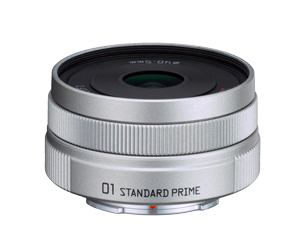 PENTAX-01 Standard Prime Lens for PENTAX Q
Lens Mount
PENTAX Q-mount (Metal Mount)
Focal Length
8.5mm (47mm equiv.)
Lens Construction(group/elements)
8 elements in 5 groups
Angle of View
49.5°
Max. Aperture (f)
F1.9
Diaphragm Control
Automatic
Min. Focusing Distance
0.2m
Max. Magnification
Approx. 0.05x
Filter Diameter
40.5mm
Max. Diameter x Min. Length
45.5mm x 23.0mm
Weight (g)
36g without hood
Notes
Lens shutter. ND filter (2 stops light reduction).
PENTAX SP (Super Protect) coating.
Lens Hood MH-RA 40.5mm (optional accessory available)
Model No.
Sold with PENTAX Q camera kits. Not available separately.