Adapter Q for K-Mount Lenses
The Adapter Q for K-mount lenses allows the use of PENTAX K-mount lenses on the PENTAX Q Series cameras. Extra-powerful super-telephoto shooting is obtainable with the 5.5X focal length multipler achieved with K-mount lenses on the Q camera body.
Adding compatibility with a full range* of K-mount lenses opens up new photographic possibilities.
Features
Extra-powerful super-telephoto shooting is obtainable with the 5.5X focal length multipler achieved with K-mount lenses on the Q camera body. For example, the PENTAX DA* 300mm F4 ED[IF] SDM telephoto lens can be used as a 1650mm super-telephoto lens (35mm equivalent).
A total of 215 lenses* can be used on the PENTAX Q series, ** ranging from fish-eye lenses and uni-focal wide-angle lenses to telephoto zoom lenses, opening up new photographic possibilities.

* As of June 15, 2012

**Only manual focusing is available with K-mount lenses.

A mechanical shutter has been incorporated in this adapter to prevent "rolling shutter distortion" — a problem that results in distorted images of the subject, due to the photographing of fast-moving subjects and the reading of the image line by line from top to bottom.
Manual aperture control possible
Camera shake is automatically compensated for any lens, simply by inputting the focal length of the mounted lens to the PENTAX Q series camera
Shutter speeds of 1/1000th second to 30 seconds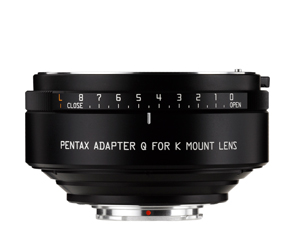 $200.00Add to cart