AF540FGZ II Flash
With a guide number of 54 at ISO 100/m, the AF540FGZ II offers a variety of advanced flash applications, including P-TTL auto flash, high-speed synchronization and wireless P-TTL auto flash. It's equipped with the PENTAX-original weather sealed construction and an LED light for a constant ambient source for shooting movies and long exposure stills. Enjoy vertical and horizontal bounce flash, and fast battery recycle time of approx. 5 seconds.
Features
With 28 dependable weather seals, its All Weather construction allows for worry-free use in demanding outdoor settings that include rain, fog and dust.
A high-intensity fixed LED light creates a constant ambient source, ideal for close-distance video recording, as well as long exposure photography. It also functions as a catch light for portraiture and as an autofocus assist light in the dark.
P-TTL mode with pre-flash allows for more accurate strobe photography.
Never miss the moment with exceptionally fast battery recharge time of 5 seconds.
High speed on-camera and high-speed wireless flash is available in P-TTL modes.
Its luminous LCD display shows the effective range of the flash.
Built-in wide-angle panel that slides out to cover 20mm angle of view (in the 35mm format).
Guide Number 54 at ISO 100/m for increased range and versatile flash performance.
Bounce Flash Function is adjustable to angles of -10 to 90 degrees vertically and up to 180 degrees horizontally.
With user-friendly function settings, customize and control flash operations with as many as nine pre-settings, including the on/off of the catch-light function.
Flash exposure compensation through a simple control dial.
Power-zoom flash to cover angles of view from 24mm to 85mm lenses (in the 35mm format).
Multi flash emission function available.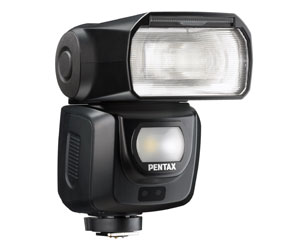 Specifications
Type
Clip-on, P-TTL auto zoom flash unit with series control
Guide Number
Maximum 54 (ISO 100/m)
In manual mode, nine-step adjustment from M1/1 to M1/256
Flash Modes
P-TTL auto, manual, multi, wireless (P-TTL/Manual)
Flash Output compensation
In P-TTL Mode, -4.0 to +2.0 (1/3, ½ steps)
Bounce Head
Vertical and horizontal bounce possible, click stops provided, lock provided at 0°.
Rightward: 0°, 30°, 60°, 90°, 120°, 150°, 180°
Leftward: 0°, 30°, 60°, 90°, 135°
Upward: 0°, 30°, 45°, 60°, 75°, 90°
Downward: 0°, -10°
Zoom Head
Auto zoom enabled with autofocus compatible camera and lens combination.
Flash Range
Approx. 0.8m – 8.0m (Guide No. 45, ISO100, F5.6)
Power Saving
Automatic power-off: After approx. 3 min. of non-operation with the power on.
After 1 hour in wireless mode.
Quick power on: By pressing the camera's shutter release button halfway.
Colour Temp. Balance
Daylight
Sync Modes
Leading Curtain Sync, Trailing Curtain Sync, Contrast Control Sync, High-speed Sync
LCD Panel Illumination
LCD panel illumination button illuminates the LCD panel for about 10 seconds or press the button again to turn it off.
Power Supply
Four AA batteries, (Alkaline (LR6), Nickel-Metal Hydride (Ni-MH), or Lithium (FR6))
Dimensions
76 mm (W) × 113 mm (H) × 108 mm (T) (3.0" × 4.4" × 4.2")
Weight
Approx. 350 g (12.3 oz.) without batteries