A Waterproof, Dustproof, Heavy-Duty Digital Camera
In addition to effective 20 megapixels, 5× optical zoom, and water-, dust-, and impact-resistance for reliability you can count on no matter what the job, the RICOH G900SE has all the latest features, including Bluetooth®, wireless LAN, NFC, GPS, and support for barcodes, and offers password protection and other security options to help secure one of your most vital information assets: your image data. With features for taking pictures securely and reliably and managing them securely and efficiently, this work-site camera is sure to increase productivity.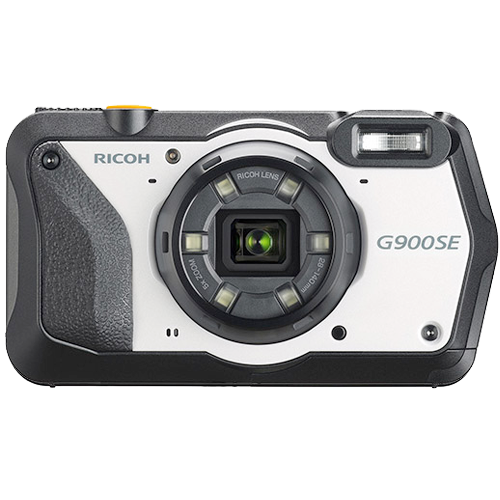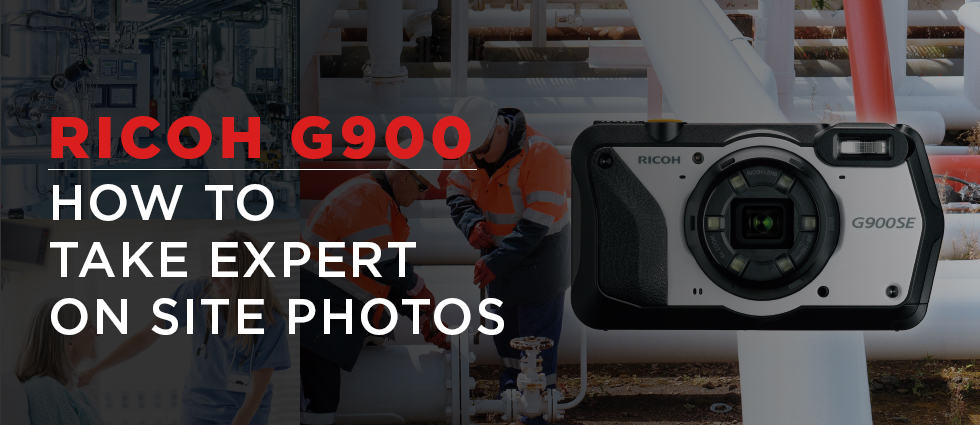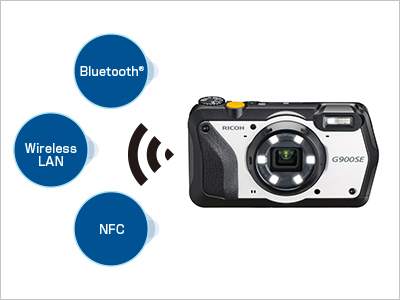 Wireless and File Renaming Features for Improved Efficiency in Medical facilities or on Product Lines
The camera features built-in Bluetooth® version 3.0/4.2 (Bluetooth Low Energy) and IEEE 802.11a/b/g/n/ac 2.4/5 GHz wireless LAN with support for highly secure IEEE 802.1x Wi-Fi authentication and computer encryption certificates. The supplied EX2 software can be used to automatically rename files based on the content of camera memos.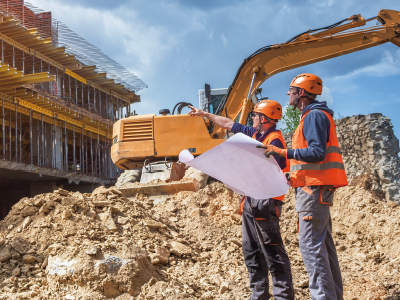 A Rugged Worksite Camera with a Camera Memo Feature
The G900SE's built-in camera memo feature can be used to add pre-prepared information to images, such as text identifying work tasks. Descriptive information can be linked to photographs to streamline sort and search operations.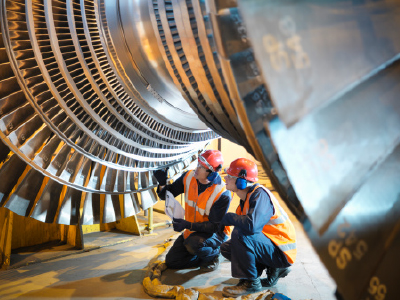 Security Features for Reducing Risk in Facilities Inspection, Government, and Banking
Password protection can be applied to the entire camera or only to one or more selected features, including the menus, internal memory, or USB connections. SDHC and SDXC memory cards can also be password protected, reducing the risk of data leaks.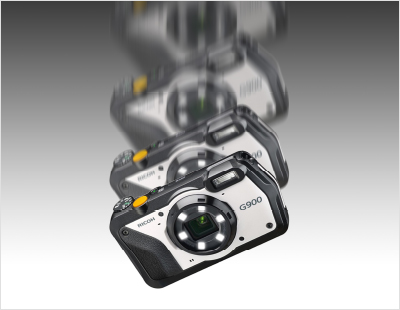 Tough body with heightened impact resistance passes the 2.1m drop test
Although it is light and compact, the RICOH G900SE features a tempered front lens element and protection at key points, tough enough to withstand the Pentagon MIL-Standard 810F 2.1m (6.9ft) drop test on all 26 sides (6 faces, 8 corners, and 12edges) even when the power is on.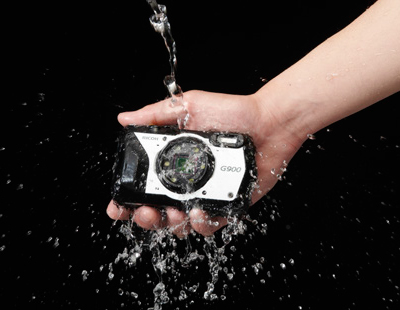 IPX 8 water resistance, good to depths of 20m for up to 2 hours
With Class 8 JIS/IEC water resistance, the RICOH G900SE can take photographs for 2 hours at depths of 20m (66ft). Use it on wet worksites or in the rain or the dirt can be rinsed off.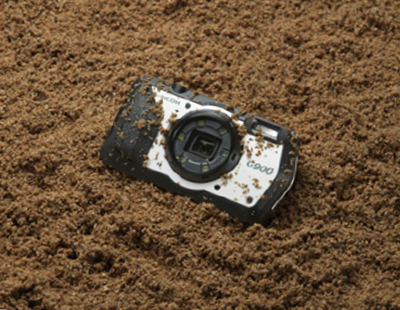 Toughness that shines on harsh jobs
Class 6 JIS/IEC dust resistance keeps out dust and sand. Able to withstand temperatures as cold as -10°C (14°F), the RICOH G900SE can be used in cold environments.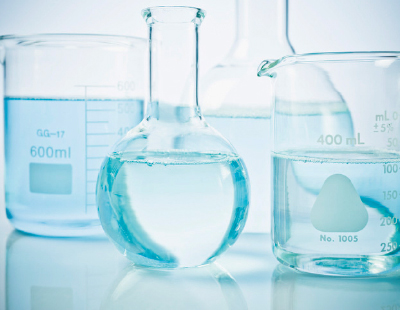 Worry-free usage with sodium hypochlorite, ethanol, or liquid chlorine dioxide disinfectants
The RICOH G900SE can be used with ethanol, sodium hypochlorite, and liquid chlorine dioxide disinfectants, allowing it to be used worry-free in medical facilities or on production lines.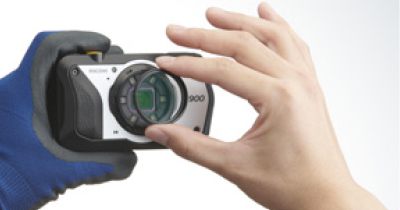 Support for filters
Third-party 37mm filters can be attached to the lens to protect it from condensation and scratches.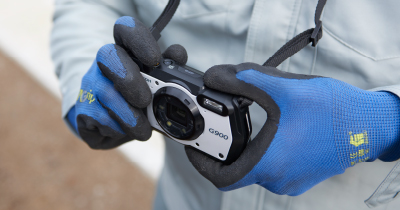 Easy to hold, easy to use
The large grip guides your fingers into a position where you can support the camera naturally. Ad ditionally the mode dial and other controls are designed for ease of use with gloves.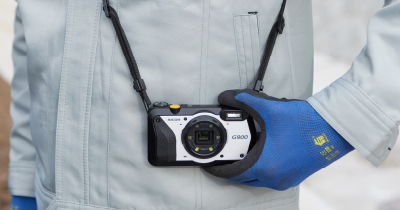 Wide, long neck strap
Long enough to be worn across the chest, the strap is broad and rugged. Camera can also be hanged vertically as it can also be worn around the neck so that the camera can easily be placed in a breast pocket.

Lens
LensType/construction
RICOH lens, 11 elements in 9 groups (5 aspherical elements)
Focal Length
5 – 25 mm
(in 35mm format equivalent)
Approx. 28 – 140mm
Maximum Aperture
F3.5(W) – F5.5(T)
Zoom
Optical Zoom
5X
Digital Zoom
approx. 8.1X
Intelligent Zoom
approx. 7X at 10M, approx. 40.5X at 640 (including optical zoom)
Motion Blur Reduction
Still
Pixel Track SR Hi-sensitivity anti-shake mode (Digital SR)
Movie
Movie shake reduction mode (Movie SR、Movie SR+)
Focus
Type
9-point AF, Spot AF, Auto tracking AF
Focus Range
Standard: 0.5m – infinity / 1.64ft. – infinity (entire zoom range)
Macro:0.1 – 0.6m / 0.33 – 1.97ft. (entire zoom range)
1cm Macro:0.01 – 0.3m / 0.03 – 0.98ft. (middle zoom position)
Infinity-landscape, Pan Focus, Manual Focus: available
Number of Effective pixels
Approx. 20 megapixels
Image Sensor
Type
1/2.3″ CMOS
Number of Recorded Pixels
Still
Size: L(20M)、M(10)、S(5M)、XS(3M)、2M、1M、VGA • 2M and 1M are available only in the CALS mode. Aspect: 4:3、3:2、1:1 • In the CALS mode, the aspect ratio is fixed to 4:3.
Movie
4K, 1920, 1280
Sensitivity (Standard Output Sensitivity)
AUTO, Manual (ISO 125 – 25600)
White Balance
Auto, Daylight, Shade, Cloudy, Tungsten light, Fluorescent light(D:Daylight Color, N:Daylight White, W:White Light), Ring light, Manual
Display
Type
3.0″ Wide LCD, approx. 1040K dots, AR Coating(Cover only)
Adjustments
Brightness, Outdoor View Setting: ±2 Steps
Exposure Control
Metering System
Multi-segment metering, Center-weighted metering, Spot metering
Exposure Compensation
± 2EV ( 1/3EV steps)
Scene modes
Auto Picture, Program, HDR, Movie, High Speed Movie, Digital Microscope, Interval Shot, Interval Movie, Surf & Snow, Digital SR, Report, watermark, Firefighting, Skew Correct, Text, Zoom Macro, Haze removal, Depth of field composition
Face detection
Face Detection AF&AE is available for all modes up to 30 faces. Smile Capture, Self-portrait Assist, Self-portrait Assist + Smile Capture, Blink Detection
Pet detection
Detect up to 1 pet's face(auto)
Playback modes
Slideshow, Image Rotation, Small Face Filter, Ink Rubbing Filter, Digital Filter(B&W / Sepia, Toy Camera, Retro, Color, Extract Color, Color Emphasis, High Contrast, Starburst, Soft, Fish-eye, Brightness, Miniature), HDR Filter, Movie Edit, Red-eye Edit, Resize, Cropping, Image Copy, Protect, Start-up Screen, Recover File, Auto Image Rotation, Skew Correct
Shutter Speed
1/4000 – 1/4sec.(Mechanical and electronic shutter)
Built-in flash
Modes
Flash-on and Flash-off modes. "Red-eye" compensation function employs a pre-discharge.
Flash Range
Wide:approx. 0.2 – 5.5m / 0.66 – 18 ft. (ISO Auto)
Tele:approx. 0.2 – 3.5m / 0.66 – 11 ft. (ISO Auto)
Drive Modes
Mode selection
One shot, Self-timer, Continuous Shooting, Burst Shooting, M Continuous, S Continuous, Remote Control, Auto Bracketing
Storage Media
Internal Memory
Built-in Memory (approx. 6.5GB),
Removable Memory
SD/SDHC/SDXC Memory Card FlashAir Card
Power Supply
Power Source
Rechargeable Battery DB-110, AC Adapter Kit K-AC166(Optional)
Battery life
Still*: approx. 340 shots (Rechargeable Battery) * With a fully-charged Rechargeable Lithium-ion Battery under the temperature at 23°C. Tested in compliance with CIPA standard. Actual results may vary depending on the shooting condition.
Playback**: approx. 260 min. (Rechargeable Battery) TBD
Wireless LAN
Standards
IEEE 802.11a/b/g/n/ac (Wireless LAN standard protocol)
Frequency (Center Frequency)
2.4GHz/5.0GHz (1ch~11ch)
Security
"WEP(64/128bit)、WPA/WPA 2 mixed PSK、WPA/WPA 2 mixed Enterprise 対応EAP 方式 EAP-TLS、PEAP(MS-CHAPv 2)"
Bluetooth®
Standards
Bluetooth® v3.0/v4.2 BLE(Bluetooth Low Energy)
Frequency (Center Frequency)
2.4GHz(CH0~CH39)
NFC
Standards
Felica,Mifare,ISO/IEC 14443 Type A/B
Frequency (Center Frequency)
13.56MHz
Interfaces
Ports
USB3.0(Type-C), HDMI output terminal(Type D)
Water proof / Dustproof
Equivalent to JIS Class 8 waterproof and JIS Class 6 dustproof capabilities
Physical Specifications
Dimensions
Approx. 118.2 (W) x 65.5 (H) x 33.1 (D)mm /4.7 (W) x 2.6 (H) x 1.3 (D) inches (including lens depth)
Weight
"Approx. 249g / 8.8 oz.(Included dedicated battery and SD memory card),Approx. 222g / 7.8 oz.(Body only) "
Included Accessories
Rechargeable Battery DB-110, Buttery Charger BJ-11,USB Power Adapter, Power Plug, USB Cable, Neck Strap, Macro Stand
Color model
Black/Pearl White
Language Support
Languages
English, French, Germany, Spanish, Portuguese, Italy, Dutch, Japanese, Danish, Swedish, Finnish, Polish, Czech, Hungarian, Turkey, Greek, Russian, Thai, Korean, Simplified Chinese, Traditional Chinese
GPS
Type
GPS, GLONASS, QZS (Michibiki) + SBAS GPS display mode: LAT/LON, UTM, MGRS GPS logging, GPS lock, GPS time adjustment, GPS data imprint, UTC data imprint
Electronic Compass
Type
Compass heading :Cardinal, Degrees, Cardinal/Degrees Declination, Compass data imprint
* Recording capacity shows approximate number of shots recorded during CIPA-compliant testing. Actual performance may vary depending on operating conditions.

** According to the result of RICOH in-house testing.

Other Detailed Information
Date Imprint
*Date Imprint Available(Date, Time, Date & time) (except Green)
Image Tone
Bright, Natural, Vibrant, Slide Film, Monochrome
World time
Supported
Text Size
NA
Smallest Aperture
Wide F4.2
Tele F6.6
Maximum Magnification
Approx. 0.4 x
Focus mode
1cm Macro
Focal length
Focal Length 9.26mm, Focusing distance 0.01m
Focus type (TTL or not)
TTL contrast detection auto focus system
AF assist lamp
available
Manual focus range
0.01m – infinity (Depends on the zooming steps. 0.01m is only available in 2 – 4 zoom step.)
Face detection (how many)
30 faces
Total pixels
Approx. 20 megapixels
Number of Individual Recorded Pixels
Still
Size: L(20M)、M(10)、S(5M)、XS(3M)、2M、1M、VGA • 2M and 1M are available only in the CALS mode. Aspect: 4:3、3:2、1:1 • In the CALS mode, the aspect ratio is fixed to 4:3.
Movie
4K(3840 x 2160): approx. 30fps,1920(1920 x 1080): approx. 30fps, 1280(1280 x 720): approx. 60/30fps
Quality Level
Still
★★★, ★★, ★
Movie
Fixed
File Format
Still
JPEG(conforms to Exif 2.3), conforms to DCF2.0, PRINT Image Matching III
Movie
MPEG-4 AVC/H.264
Audio
【Movie/Underwater Movie】32KHz, 16bit, stereo
The Auto ISO range
ISO ISO 125 – 200, ISO 125- 400, ISO 125- 800, ISO 125- 1600, ISO 125- 3200, ISO 125- 6400
The Auto ISO range for digital SR
ISO 125 – 6400
Dynamic range
available (Shadow/ Highlight adjustment)
Display Information
TFT or not
TFT color LCD
coverage
with coverage
angle degree
Horizontal/Vertical 85/85deg.
LCD frame rate
Approx. 60 fps
Auto picture Scene Modes
Landscape, Portrait, Night Scene, Night Scene Portrait, Standard, Flower, Sport, Candlelight, Blue Sky, Sunset, Text, Group Photo, Pet, Portrait x Blue Sky, Portrait x Sunset, Portrait x Backlight
Noise reduction
Automatically applied when the shutter speed is slower than 0.25 sec.
Playback functions
One Shot, Index (20 thumb nails, 81 thumb nails), Enlargement (up to 10X, scroll available), Movie Playback, Histogram, Folder display, Delete, Select&Delete, Delete All, Calendar
Digital filter
B&W / Sepia, Toy Camera, Retro, Color, Extract Color, Color Emphasis, High Contrast, Starburst, Soft, Fish-eye, Brightness, Miniature Filter
Movie edit functions
Save as still image , Divide Movies , Adding title picture
Self- timer count
10 sec, 2 sec, Remote Control(immediately, 3 sec)
Start-up Time
Approx. 2.0 sec(TBD)
Release Time Lug
Approx. 0.003 sec.
Continuous shooting
Approx. 3 frame/sec.
The max. # of frames at conti. Shooting
80(Subject dependent)
High speed continuous shooting
Approx. 10 fps, 5M(4:3): up to 48 frames
Audio sampling rate
32kHz, 16bit
Battery Life
Movie
Approx. 60 min. ** (TBD)
Verified memory card
Sandisk、 Panasonic、 Toshiba
Accessories
Rechargeable Battery DB-110, USB Power Adapter, Power Plug, USB cable, Neck Strap, Macro Stand, Battery Charger
Battery charge time
Approx. 180 min.
Others
* Waterproof (Up to 20m(65.6ft.) for 2hours)
* Shock proof (Up to 2.1m (6.8ft.) or 2.0m(6.6ft.)) (TBD)
* Operating Temperature -10℃(14°F) to 40℃(104°F)
* FlashAir Compatible
* Ring light
* USER Setting(U1/U2)
* ADJ Setting
* Green Button Setting
* Changing Folder name function supported
* HDMI Type D (Micro) port
* Remote control compatible
* Outdoor View Setting
* Todays Shots Counter
* Camera Memo
* Electronic Leveler
* Image Modification Check
* Copyright Information
* Eco Mode
* Conversion Lens Support
* Barcode Mode
* User Password/Admin Password Setting
* Electronic Board Support
* Image Clip
* Wireless LAN (IEEE 802.11a,b,g,n,ac)
* Bluetooth® v3.0/v4.2
* NFC
* Image Transmitter2

Ricoh O-CC173 Protector Jacket
Model No. 30278

Ricoh SC-900 Soft Case
Model No. 30277

Waterproof Remote Control O-RC1
Model No. 39892

AC Adapter (K-AC 166U)
Model No. 38372

Battery Charger (BJ-11)
Model No. 37861

Rechargeable Battery (DB-110)
Model No. 37838