HD PENTAX-DA 560mm F5.6 ED AW
This super-telephoto lens offers a focal length of approx. 859mm in the 35mm format. The multi-layer HD (High Definition) coating offers higher light transmittance with reduced reflection to deliver sharp, clear images free of flare and ghost images, even under demanding lighting conditions such as backlight. Its dustproof, weather-resistant construction assures reliable operation in demanding outdoor settings. It Incorporates smooth autofocus operation using an AF driving motor (DC motor) installed inside the lens barrel*. SP (Super Protect) coating is applied to the front surface of this lens to effectively repel water and grease, and for easy wipe-off of dust. Includes a built-in, removable filter holder in the barrel.
* Compatible with the K-5 II, K-5 II s, K-30, K-01, K-5, K-r, K-7, K-x, K-m, K20D, K200D, K100D Super and K10D camera bodies (with Ver. 1.30 or later firmware installed). When mounted on other camera bodies, the focus mode is automatically switched to manual.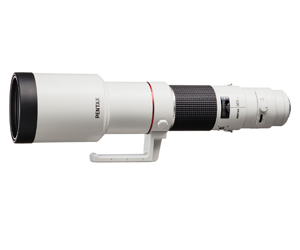 HD PENTAX-DA 560mm F5.6 ED AW
Lens Mount
PENTAX KAF3 mount
Angle of View
2.9° (with PENTAX K-mount camera body)
Lens Construction(group/elements)
6 elements in 5 groups
Min. Aperture (f)
F45
Min. Focusing Distance
5.6m (18.37 ft.)
Max. Magnification
0.10X
Filter Size
112mm (or 40.5mm in lens barrel filter holder)
Diameter & Length (mm)
130.3mm x 521.7mm (5.1" x 20.5")
Weight (g)
3040 g (107.2 oz)
Notes
HD Coating
SP (Super Protect) Coating
Rounded aperture from F5.6 – F11
9 Diaphragm Blades
Quick-Shift focus system
Hood: Built-in slide out type
Model No.
22180