The K-1 takes greatness to the next level. As the first full frame DSLR engineered under the PENTAX brand, the K-1 brings outstanding performance, operability and affordability to photographers. With its large 36.4 megapixel CMOS image sensor, the K-1 incorporates all of the performance of a high-resolution full frame 35mm digital camera as well as all of the unique PENTAX-original features and technologies that photographers have become accustomed to, in a compact, rugged, weather-resistant body. The K-1's newly designed, 14-bit PRIME IV image processing engine significantly improves processing speed, while an improved noise-processing algorithm provides unprecedented performance in shadows or low light shooting where high ISO settings are critical. The Pixel Shift Resolution System with new Motion Correction technology automatically detects and compensates for moving objects in the scene. The K-1's SR II 5-axis Shake Reduction system provides consistent, precise operation of the larger full frame sensor with all compatible PENTAX interchangeable lenses. The newly designed SAFOX 12 33-point AF sensor includes 25 cross AF points and three F2.8 luminance flux linear sensors. The APS-C Crop Mode allows for use of APS-C sensor-designed lenses on the full frame K-1, giving photographers added flexibility in their lens options. With the built-in GPS with ASTROTRACER, easily track and photograph celestial objects. The Cross-Tilt LCD display offers the ultimate in LCD flexibility and is viewable from any angle, while the Operation Assist light function offers LED illumination on strategic locations of the camera body, for easier operation in challenging lighting conditions.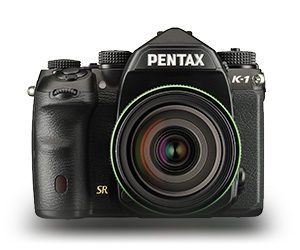 High-resolution, fine-gradation images supported by approximately 36.4 effective megapixels
The K-1 features an AA filter-less design that prioritizes image resolution and a new PRIME IV imaging engine that's capable of 14-bit RAW file output. The K-1's unique full frame sensor and imaging engine design allows for super-high-sensitivity shooting up to ISO 204,800.
In-body SRII mechanism assures optimal shake reduction performance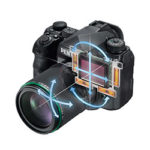 The PENTAX-developed SR II (Shake Reduction) five-axis mechanism enables accurate control of the large full-frame image sensor with all compatible PENTAX interchangeable lenses* at a compensation range of up to 5 shutter steps. In addition to camera shake caused by pitch and yaw, it effectively compensates for camera shake caused by horizontal and vertical shift, as well as camera shake caused by roll, which is difficult to control with lens-installed shake reduction mechanisms. Even when taking a panning shot, this system automatically detects the direction of the camera's movement, and efficiently controls the SR unit to always produce the best image possible.
The K-1's SR unit's flexible design tilts the image sensor in all directions, offering a host of handy shooting functions including: Automatic Horizon Correction which automatically levels the horizon; Selectable AA Filter Simulator which replicates the effect of an optical low-pass filter by removing moiré; Composition Fine Adjustment which allows you to fine tune your composition without having to re-adjust your tripod; and ASTROTRACER which simplifies advanced astronomical photography using the built-in GPS module.
* Lenses compatible with this mechanism: K–, KA-, KAF-, KAF2- and KAF3-mount lenses; screw-mount lenses (with an adapter); and 645- and 67-system lenses (with an adapter). Some functions may not be available with certain lenses.
Pixel Shift Resolution System with a new motion correction function
The K-1's Pixel Shift Resolution System** captures four images of the same scene by shifting the image sensor by a single pixel for each image, and then synthesizes them into a single composite image. It delivers super-high-resolution images with more truthful colours and much finer details than those produced by conventional full-frame image sensors. The motion correction function*** automatically detects and corrects for moving objects during the capture process, in order to accommodate a wider range of scenes and subjects.
** When using this system, the user is advised to stabilize the camera firmly on a tripod. When a moving subject is captured in the camera's image field, its image may not be reproduced clearly, either in part or as a whole.
*** The movement may not be sufficiently corrected when the object is moving in a certain direction and/or pattern. This function does not guarantee that the movement is properly corrected with all subjects.
Flexible tilt-type LCD monitor to accommodate various shooting angles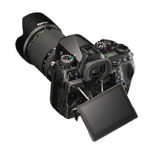 The K-1 features a newly designed, flexible tilt-type 3.2-inch LCD monitor, which tilts horizontally, vertically or diagonally with a single action, without deviating from the lens's optical axis. It features a tempered-glass front panel for added durability and a unique air-gapless construction to effectively reduce reflections. A new Outdoor View Setting mode allows the user to instantly choose the desired monitor brightness level with a single push of a button.
Newly developed SAFOX 12 with 33 sensor points and full-frame-proportioned AF frame
The SAFOX 12 AF sensor module features 33 AF sensors (25 cross-type sensors positioned throughout the frame). The center sensor and the two sensors located just above and below it are designed to detect the light flux of an F2.8 lens, making it easy to obtain pinpoint focus on a subject when using large-aperture F2.8 lenses.
Upgraded PENTAX Real-Time Scene Analysis System, with application of artificial intelligence technology
The K-1's advanced PENTAX Real-Time Scene Analysis System performs near instant analysis of exposure, colour, movement and other factors. Combining with a breakthrough artificial intelligence technology called deep learning, the K-1 instantly optimizes settings for even the most difficult shooting situations.

Type
TTL autofocus, auto-exposure SLR digital-still camera
Sensor
Type: CMOS with primary colour filter
Size: 35.9 x 24.0mm
Effective Pixels: 36.40 megapixels
Total Pixels: 36.77 megapixels
Image Stabilization: Sensor-Shift Shake Reduction (SRII), 5-axis
Dust Removal: Image sensor cleaning using ultrasonic vibrations, "DR II"
Sensitivity
Auto: ISO 100-204800 (EV steps can be set to 1EV, 1/2EV or 1/3EV)
Lens Mount
PENTAX KAF2 bayonet stainless steel mount
(AF coupler, lens info contacts, K-mount w/ power contacts)
Usable Lens
PENTAX KAF3, KAF2(power zoom compatible), KAF, and KA mount lenses
Recording & Image Formats
Image Sizes
[35mm Full Frame]
JPEG: L (36M): 7360×4912, M (22M): 5760×3840, S (12M): 4224×2816, XS (2M): 1920×1280
RAW: (36M): 7360×4912[APS-C size]
JPEG: L (15M): 4800×3200, M (12M): 4224×2816), S (8M): 3456×2304, XS (2M): 1920×1280
RAW: (15M): 4800×3200
File Formats
RAW (PEF, DNG), JPEG (EXIF 2.30), DCF 2.0 compliant
Quality Level
RAW (14bit): PEF, DNG
JPEG: ★★★ Best, ★★ Better, ★GoodRAW + JPEG: simultaneous capture available
Colour Space
sRGB, AdobeRGB
Storage Media
SD, SDHC and SDXC Memory Card (Conforms to USH-1 standards)
Focusing System
Type
SAFOX 12 TTL phase-matching autofocus, 33 point (25 cross type focus points in the center)
Brightness Range
EV-3 to 18 (ISO 100 / at normal temperature)
AF Modes
Single AF (AF.S), Continuous (AF, C)
Focus Point Adjustment
Spot, Select, Expanded Area (S, M, L), Zone select, Auto (33 AF points)
AF assist
Dedicated LED AF assist light
Exposure Control
Metering System
TTL open aperture metering using 86K pixel RGB sensor, Multi-segment, center-weighted and spot metering
Metering Range
EV-3 to 20 (ISO100 at 50mm F1.4)
Exposure Mode
Scene Analyze Auto, Program, Sensitivity Priority, Shutter Priority, Aperture Priority, Shutter & Aperture Priority, Manual, Bulb, Flash X-sync Speed,USER1, USER2, USER3, USER4, USER5
Exposure Compensation
±5EV (1/2EV steps or 1/3EV steps can be selected)
AE Lock
Button type (timer type: two times the meter operating time set in Custom Setting); Continuous as long as the shutter button is halfway pressed
Capture Modes
Custom Image Modes: Auto Select, Bright, Natural, Portrait, Landscape, Vibrant, Radiant, Muted, Flat, Bleach Bypass, Reversal Film, Monochrome, Cross Processing
Cross Process: Random, Preset 1-3, Favorite 1-3
Digital filter: Extract Colour, Replace Colour, Toy Camera, Retro, High Contrast, Shading, Invert Colour, Unicolour Bold, Bold Monochrome
Clarity: adjustable ±4 steps
Skin tone: Type 1/Type 2
HDR: Auto, HDR1, HDR2, HDR3, Advanced HDR, Exposure bracket value adjustable, Automatic composition correction function
Pixel Shift Resolution: Available, Motion Correction ON / OFF
Lens Correction: distortion correction, peripheral illumin. correction, lateral correction, aberration correction, diffraction correction
D-RANGE compensation: highlight correction, shadow correction
Noise Reduction: Slow Shutter Speed NR. High-ISO NR
GPS: GPS Logging (Logging Interval, Logging Duration, Memory Card Options), GPS Time Sync
Electronic Compass: Available
ASTROTRACER: Possible
Horizon Correction: SR On: correction up to 1 degrees, SR Off: correction up to 2 degrees
Composition adjust: ±1.5mm up, down, left or right (1mm when rotated); 1 degree of range
Electronic level function: Yes, verification via viewfinder and LCD panel (Horizontal and Vertical)
Playback Modes
Playback View: Single frame, multi-image display (6,12, 20, 35, 80 segmentation), display magnification (up to 16, 100% display and quick magnification available), grid display (4×4 grid, golden section, scale display, square 1, square 2, grid colour: black/white ), rotating, histogram (Y histogram, RGB histogram), bright area warning, auto image rotation, detailed information, copyright information (photographer, copyright holder), GPS information (latitude, longitude, altitude, coordinated universal time), orientation, folder display, calendar filmstrip display, slide show
Edit: Image Rotation, Colour Moiré Correction, Resize, Cropping (Aspect ratio and Slant adjustment available), Movie Edit (Divide or delete selected frames), Capturing a JPEG still picture from a movie, Saving RAW data in buffer memory, Image Copy
Digital filters (playback): Base Parameter Adj, Extract Colour, Replace Colour, Toy Camera, Retro, High Contrast, Shading, Invert Colour, Unicolour Bold, Bold Monochrome, Tone Expansion, Sketch, Water Colour, Pastel, Posterization, Miniature, Soft, Starburst, Fish-eye, Slim, Monochrome
Video Capture
File Format
MPEG-4 AVC/H.264(MOV)
Recorded Pixels
Full HD (1920×1080, 60i/50i/30p/25p/24p)
HD (1280×720, 60p/50p)
Sound
Built-in stereo microphone, external microphone (Stereo recording compatible)
Recording Sound Level adjustable, Wind Noise Reduction
Recording time
Up to 25 minutes or 4GB; automatically stops recording if the internal temperature of the camera becomes high.
Capture Modes
Custom Images: Auto Select, Bright, Natural, Portrait, Landscape, Vibrant, Radiant, Muted, Bleach Bypass, Reversal Film, Monochrome, Cross Processing
Cross Processing: Random, Preset 1-3, Favorite 1-3.
Digital Filter: Extract Colour, Toy Camera, Retro, High Contrast, Shading, Invert Colour, Unicolour Bold, Bold Monochrome
White Balance
AUTO WB, Multi Auto WB
Daylight, Shade, Cloudy, Fluorescent Light (D: Daylight Colour, N:Daylight White, W:Cool White, L:Warm White), Tungsten Light, Flash, CTE
Manual WB: Yes, Manual WB (up to 3 settings), Colour Temperature Configuration (up to 3 settings), Copying the white balance setting of a captured image
Fine Adjustment: Adjustable ±7 steps on A-B axis or G-M axis
Shutter
Type: Electronically controlled vertical-run focal plane shutter
* Electronic shutter when using Pixel Shift Resolution
Shutter Speed: auto: 1/8000 to 30 sec., manual: 1/8000 to 30 sec. (1/3 or 1/2EV steps), Bulb
Drive Modes
Mode selection: Still image: single frame, continuous (H, M, L), self-timer (12s, 2s, continuous), remote control (0s., 3s., continuous), bracketing (2, 3 or 5 frames), mirror-up (possible to use with remote ctrl), multi-exposure (possible to use with continuous, self-timer or remote ctrl), interval shooting, interval composite, interval movie record, star stream
Movie: remote control

*bracketing, interval shooting, interval composite, interval movie record and star stream are possible to use with self-timer/remote control.

Continuous shooting (approximates)
[35mmFull Frame]
Max. 4.4 fps, JPEG ( L: ★★★ at Continuous H): up to 70 fr., RAW: up to. 17 fr.
Max. 3.0 fps, JPEG L: ★★★ at Continuous M): up to 100 fr., RAW: up to 20 fr.
Max. 0.7 fps, JPEG ( L: ★★★ at Continuous L): up to 100 fr., RAW: up to 100 fr.
[APS-C size]
Max. 6.5 fps, JPEG ( L: ★★★ at Continuous H): up to 100 fr., RAW: up to approx. 50 fr.
Max. 3.0 fps, JPEG L: ★★★ at Continuous M): up to 100 fr., RAW: up to 70 fr.
Max. 1.0 fps, JPEG ( L: ★★★ at Continuous L): up to 100 fr., RAW: up to 100 fr.
*ISO100
Multi-exposure: composite mode (additive/average/bright) # of shots(2 to 2000 images)
Interval shooting:
[Interval shooting] interval: 2s. to 24h./ standby interval: 1sec. to 24hrs., number of images: 2 to 2000, start interval: now/self-timer/remote control/set time
[Interval composite] interval: 2sec. to 24hrs./ standby interval: 1sec. to 24hrs., number of images: 2 to 2000, start interval: now/self-timer/remote control/set time, composite mode: additive/average/bright, save process: on/off
[Interval movie] recorded pixels: 4K/FullHD/HD, file format: motion JPEG (AVI), interval:2sec. to 24hrs./standby interval: 1sec. to 24hrs., number of shots: 8 to 2000 images (8 to 500 images at 4K), start interval: now/self-timer/remote control/set time
[Star stream] recorded pixels: 4K/FullHD/HD, file format: motion JPEG (AVI), interval:2sec. to 24hrs./ standby interval: 1sec. to 24hrs., number of shots: 8 to 2000 images (8 to 500 images at 4K), start interval: now/self-timer/remote control/set time, fade-out: off/low/medium/high

Viewfinder
Type: Pentaprism finder
Coverage (field of view): 100%
Magnification: 0.70x (w 50mm F1.4 at infinity)
Eye relief length: approx. 20.6mm (from the view window), Approx 21.7 mm (from the center of lens)
Focusing screen: Fixed Natural-Bright-Matte III
Diopter adjustment: -3.5m to 1.2m-1
Viewfinder Overlay: AF Points, Grid Display, Electronic Level, AF Frame, Spot Metering Frame, Crop
LCD Monitor
Type: 3.2" (3:2 Aspect) wide viewing angle TFT colour LCD, Air-gapless glass, Flexible tilt
Resolution: 1037K dots
Adjustment: brightness, saturation and colours adjustable
Outdoor View Setting: adjustable ±2 step
Live View
Type: TTL method using image sensor
Focusing mechanism: Contrast detection (Face Detection, Tracking, Multiple AF points, Select,Spot), Focus peaking : On/Off
Display: field of view approx 100%, magnified view (up to 16x), grid display (4×4 grid, golden section, scale
display, square 1, square 2, grid colour: black/white), histogram, bright area warning, composition adjustment
Built-in Flash
n/a
External Flash Synchronization
Flash modes: auto flash discharge, auto flash + red-eye reduction, flash on, flash on+ red-eye reduction, slow speed sync, slow-speed sync + red-eye, P-TTL, trailing curtain sync, contrast-control sync*, high-speed sync*, wireless sync
*Contrast-control-sync and high-speed sync requires 2 or more dedicated external flashes
Sync speed: 1/200 sec.
Flash exposure compensation: -2.0~+1.0 EV
Custom Function
26 custom-programmable functions available
Built-in GPS
Satellites: GPS, QZSS, SBAS (WAAS/EGNOS/GAGAN/MSAS)
Reception frequency: L1 1575.42MHz
Recorded information: latitude, longitude, altitude, time (UTC), direction
Geodesics: World Geodetic System (WGS84)
GPS logging: KML format, logging interval 5/10/15/30 sec./1min., logging duration: 1-24hr (Up to 9 hrs at logging Interval 5 sec, up to 18 hrs. at logging interval 10 sec.)
Interfaces
Connection port: USB 2.0 (Micro B), external power supply terminal, external cable switch terminal, X-sync socket, HDMI output terminal (Type D), stereo microphone input terminal, headphone terminal
USB Connection: MSC/PTP
Wireless LAN
Standard: IEEE 802.11 b/g/n
Security: authentication, WPA2, Encryption: AES
Power Sources
Power source: Rechargeable Li-Ion battery D-LI90
Recordable images: Approx. 760 *
Playback time: Approx. 390 min.*

* With a fully-recharged rechargeable lithium-ion battery. Tested in compliance with CIPA standard. Actual results may vary depending on the shooting condition.

AC adapter available: Yes (sold separately)

Dimensions
(W x H x D): 136.5 x 110 x 85.5 mm
Weight
Without battery or removable memory: 925g
Loaded and ready: 1010 g w/dedicated battery & SD memory card
Construction material(s)
Magnesium alloy shell over metal chassis
Weather Resistant
Yes (87 weather protection seals)
Operating temperature
-10 to 40°C (14-104°F)
Time
World Time: 75 cities (28 time zones)
Language
English, French, German, Spanish, Portuguese, Italian, Dutch, Danish, Swedish, Finnish, Polish, Czech, Hungarian, Turkish, Greek, Russian

Rechargeable L-ION Battery D-LI90(E)
Model No. 39993

Battery Charger Kit K-BC90U
Model No. 39835

Battery Grip D-BG6
Model No. 38607

AC Adapter Kit K-AC132U
Model No. 38780

Magnifying Eyecup O-ME53
Model No. 30150

Remote Control F
Model No. 37377

Waterproof Remote Control O-RC1
Model No. 39892

Image Sensor Cleaning Kit O-ICK1
Model No. 39357

Strap O-ST1401 Black
Model No. 38613

Strap O-ST1401 Red
Model No. 38614

Pentax AF360FGZ II Flash Weather Resistant
Model No. 30438

Pentax AF540FGZ II Flash Weather Resistant
Model No. 30456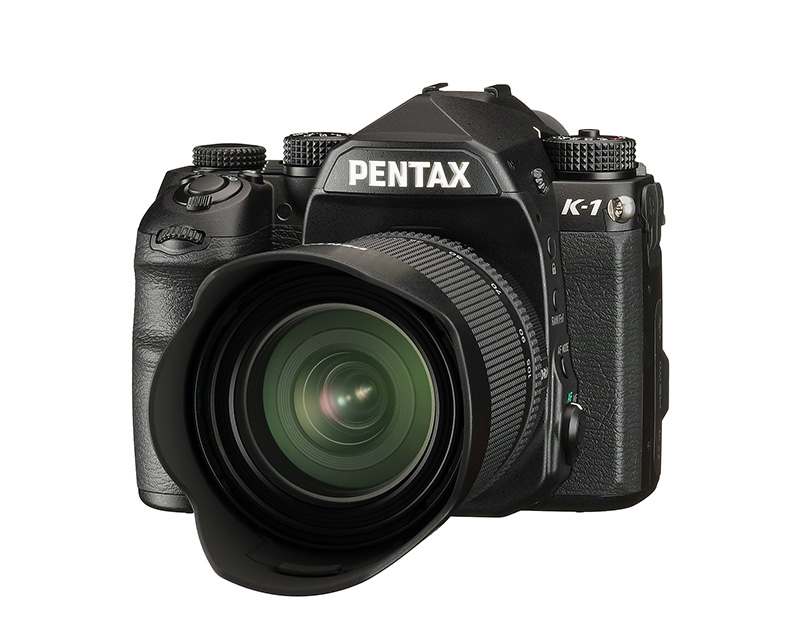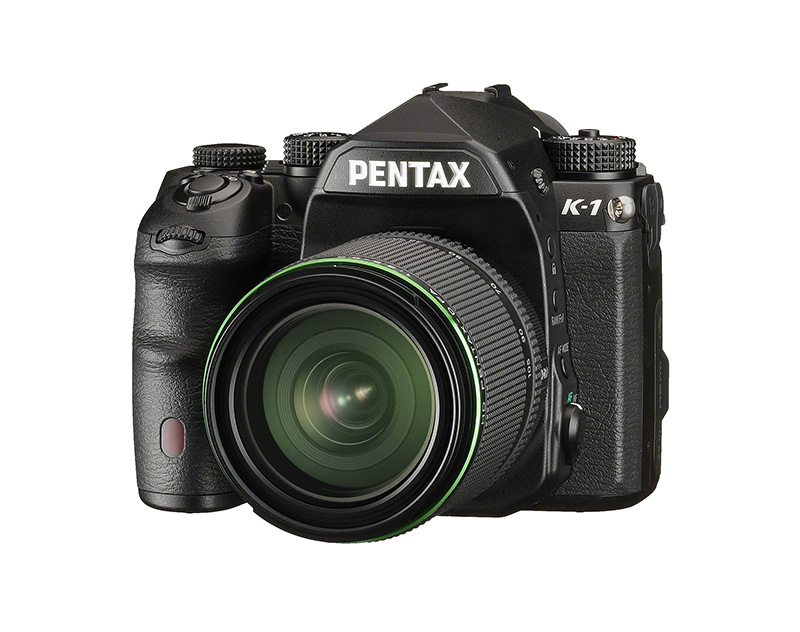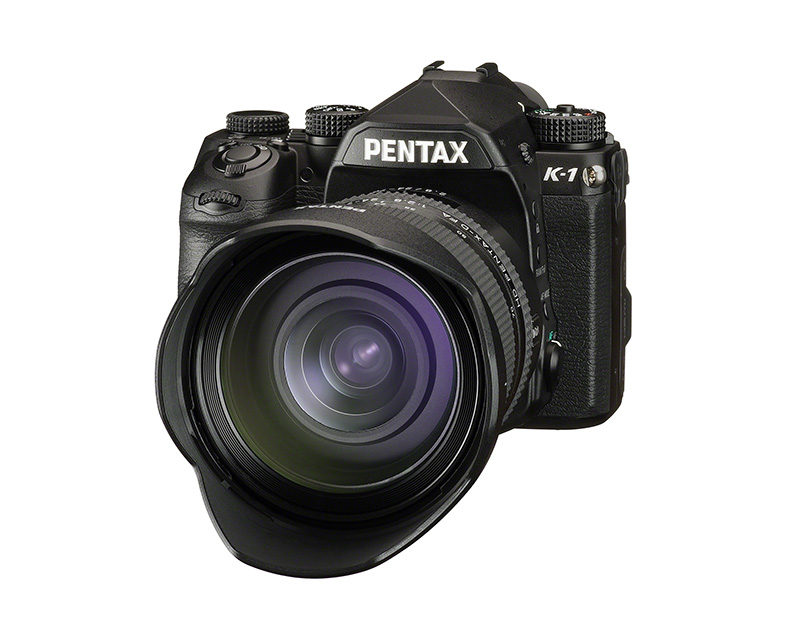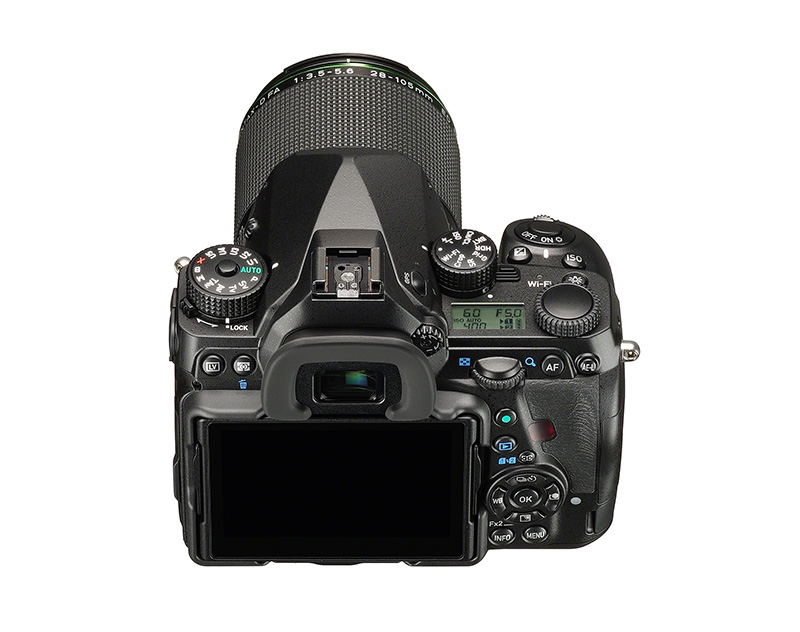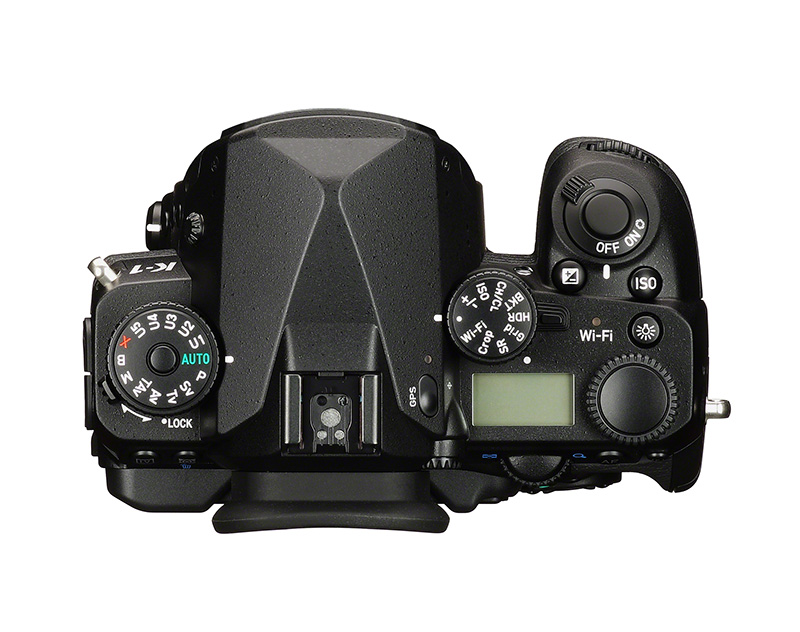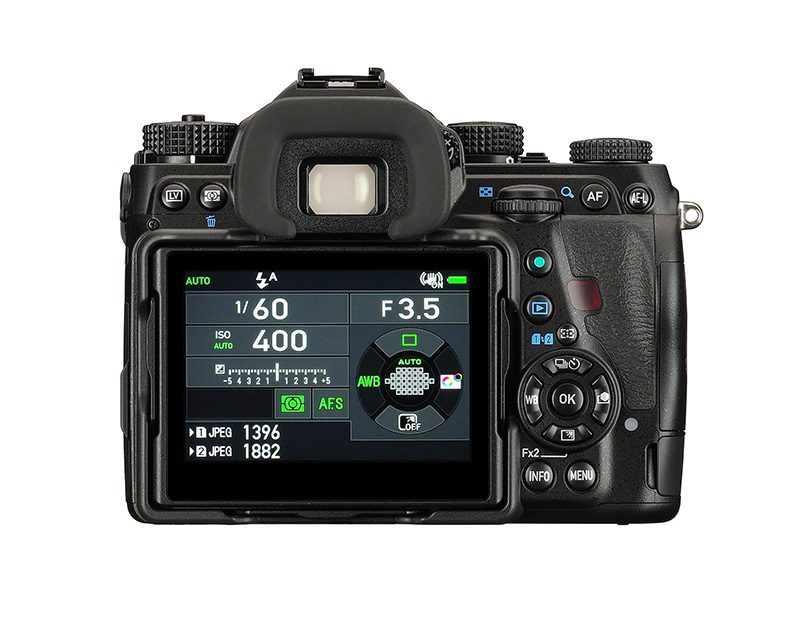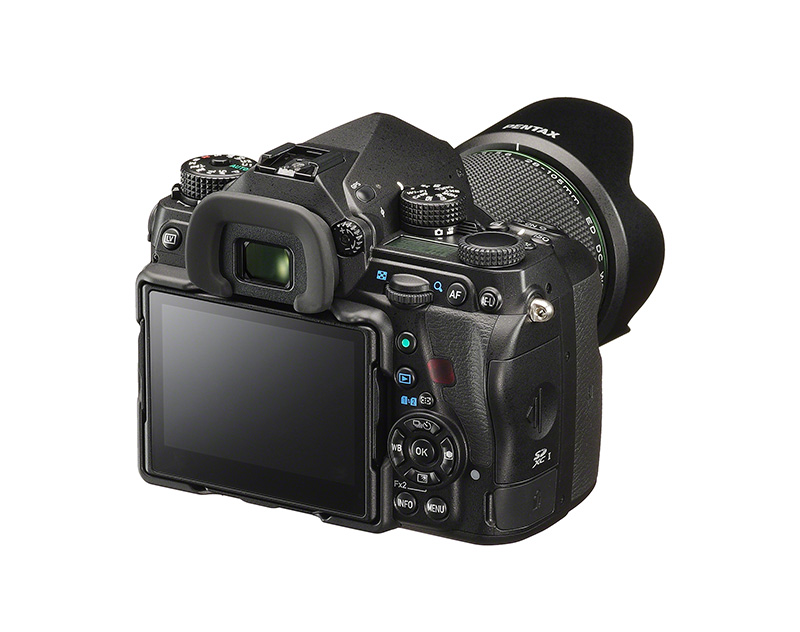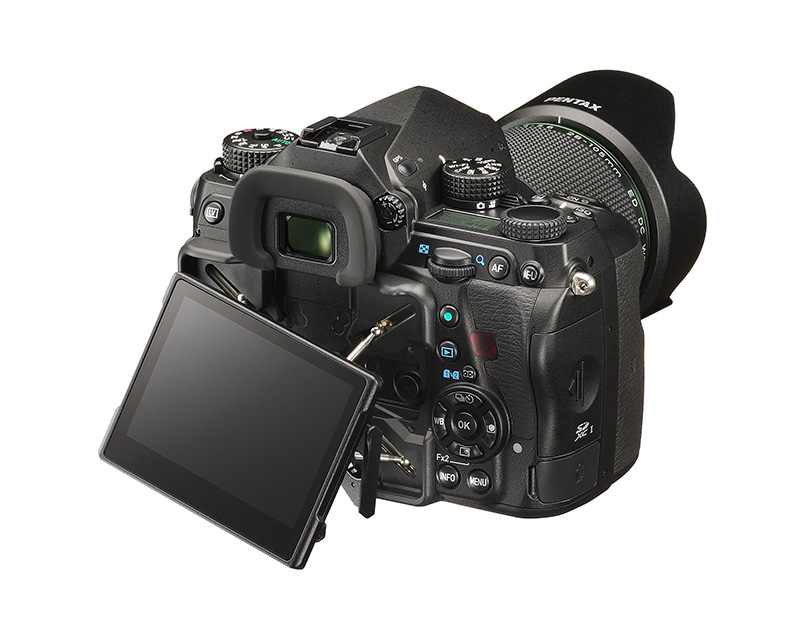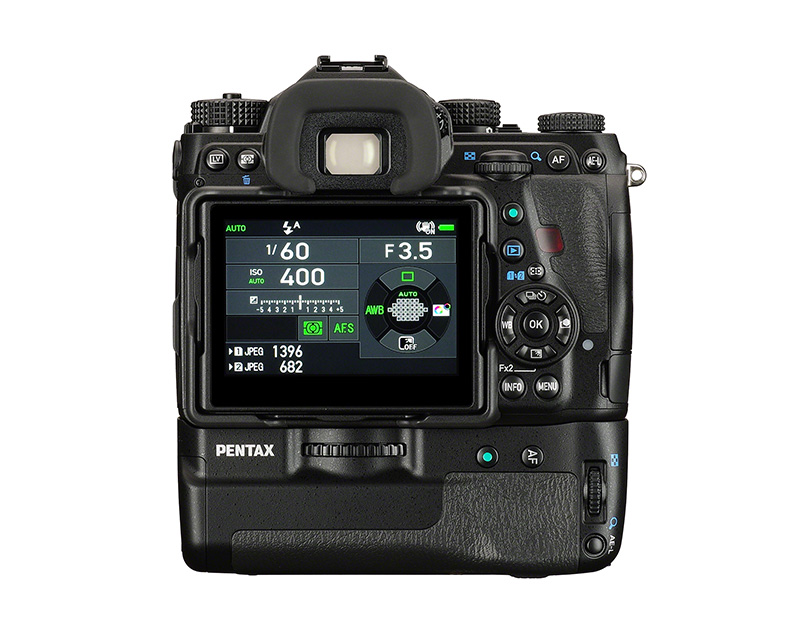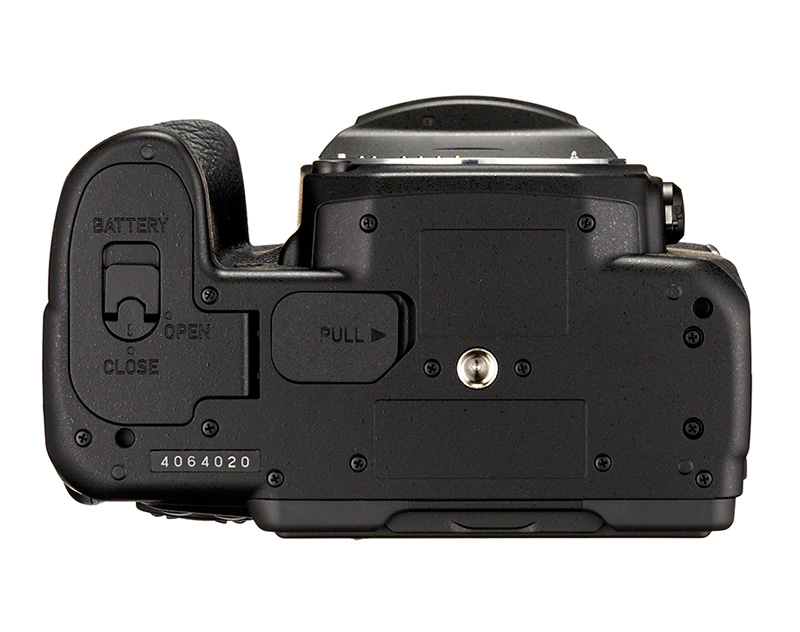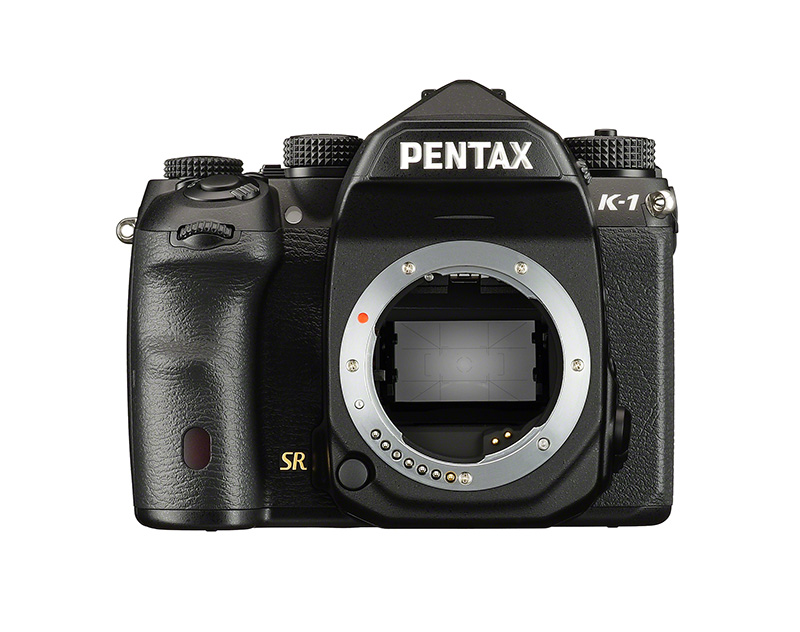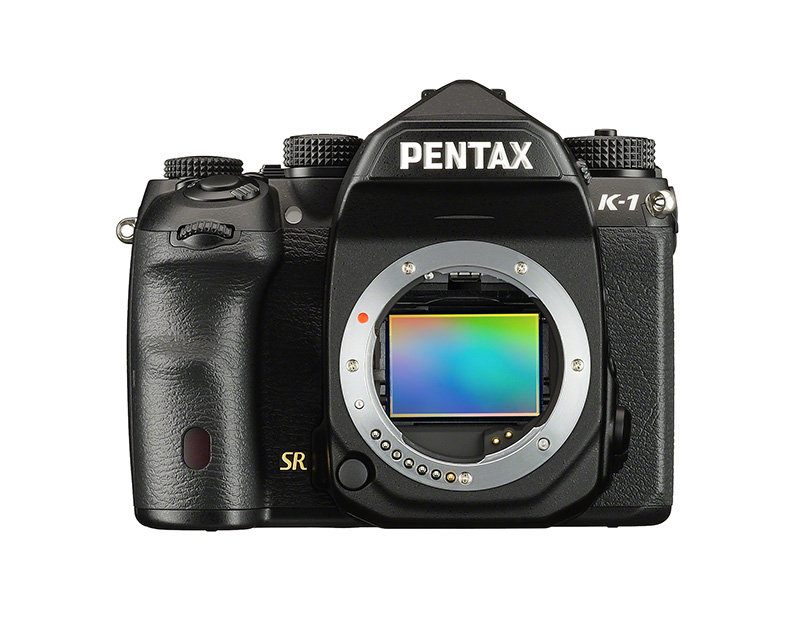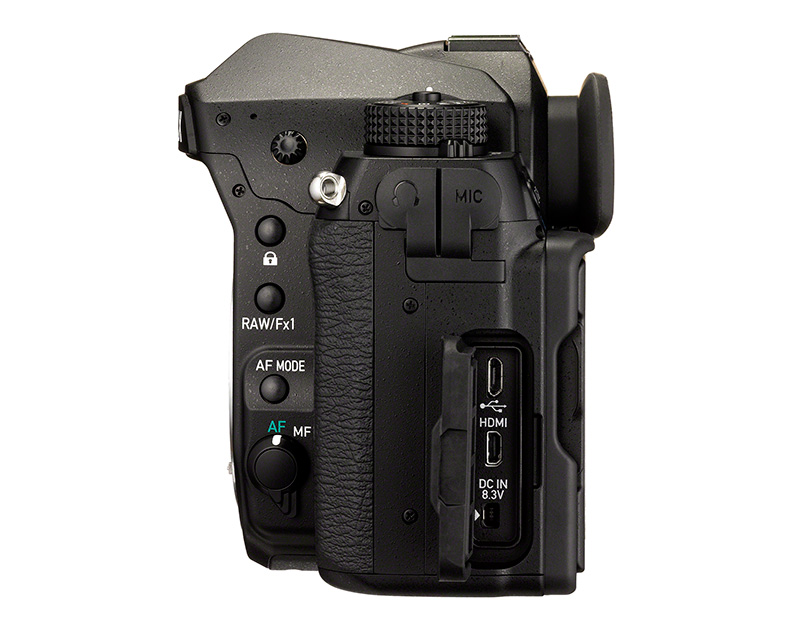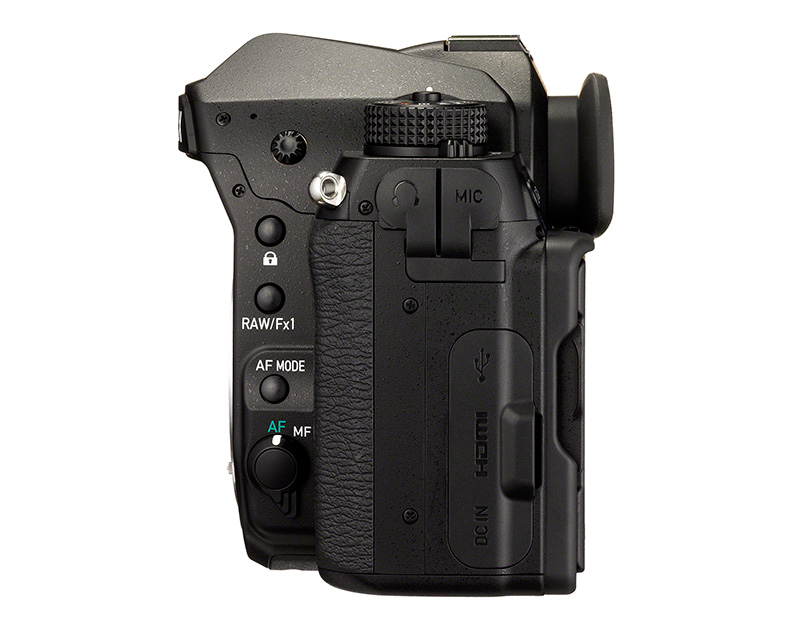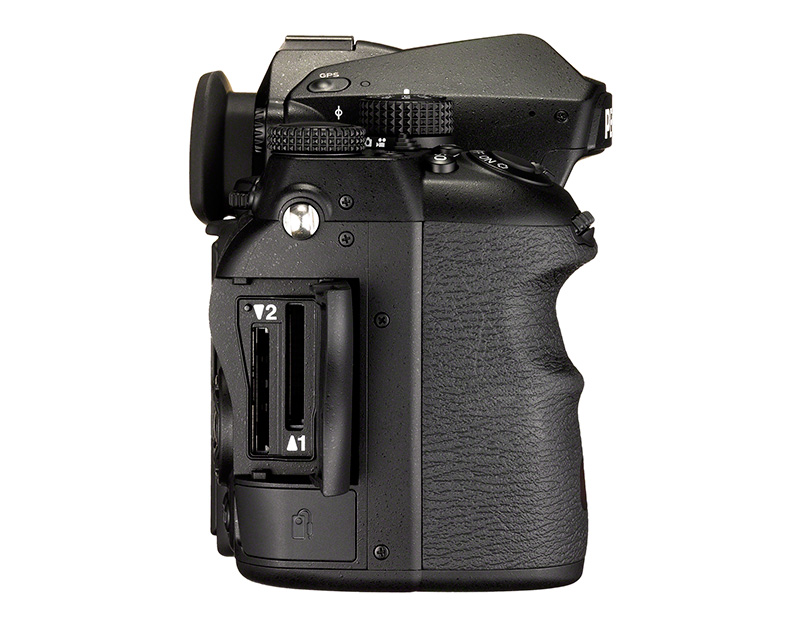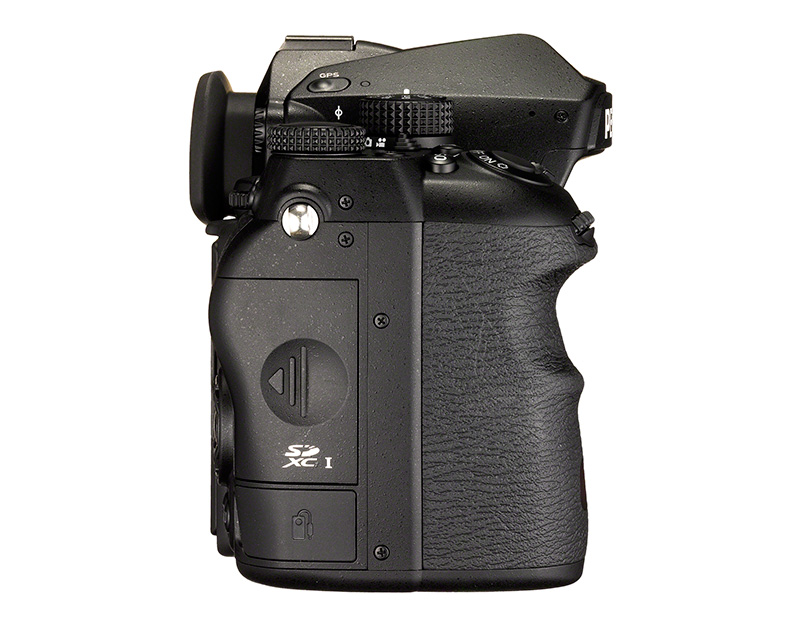 K-1 Body
Li-Ion Battery D-LI90E
Battery Charger Kit K-BC90U
Strap O-ST162
Eyecup FT
Finder Cap ME
PC Socket Cap
Hotshoe Cover FK
Body Mount Cover
Software CD-ROM S-SW162