Full-featured mid-level DSLR with fast advanced functionality and weather-resistant design
The K-50 offers advanced features and outstanding operability in a compact, weather-resistant, coldproof and lightweight body for worry-free outdoor photography. Featuring specifications of a top level DSLR, enjoy a 16.28 megapixel APS-C CMOS sensor, fast continuous shooting at six frames per second, ISO up to 51200, 100% field of view, innovative in-body shake reduction, an advanced auto focus module and Full HD video recording. The K-50's available in 120 brilliant colour combinations so you can customize your K-50 to match your personal style.

High-resolution, super-high-sensitivity shooting at ISO 51200
The state-of-the-art CMOS image sensor with a large image-capturing area measuring 23.7mm by 15.7mm assures high-speed image data readout. This image sensor is coupled with PRIME M imaging engine to deliver super-high-resolution, rich-gradation digital images with approximately 16.28 effective megapixels. High sensitivity shooting up to ISO 51200 improves noise performance throughout, even in low lighting.
Fully Weather-sealed, Dustproof, Coldproof Design
With 81 weather seals throughout the entire body, the K-50 ensures worry-free use in any weather condition or outdoor setting, be it rain or sand. The K-50's rugged, coldproof design is also perfect for use in wet, snowy winter conditions, at temperatures as low as -10°C
High-speed continuous shooting, at approximately six images per second
The K-50 allows you to record active, fast-moving subjects in a series of images, at a maximum speed of approximately six images per second (in the JPEG recording format). A maximum 1/6000 second shutter speed freezes sports and fast action without subject movement blur.
Pentaprism Viewfinder for 100% Field of View
Despite its compact size, the K-50 features a glass prism finder with nearly 100% field of view and approximately 0.92-times magnification (with a 50mm F1.4 lens at infinity) to cover the entire field of view for easy focusing and framing. It delivers a clear view of the subject even in bright sunshine and eliminates parallax and time lag in the viewfinder image.
Innovative SR mechanism
The PENTAX-developed SR (Shake Reduction) mechanism effectively compensates the adverse effect of camera shake to deliver sharp, blur-free images, even under shake-prone conditions such as when using a telephoto lens, shooting in the dark without flash illumination, or taking landscapes at twilight. This innovative mechanism works with almost all PENTAX interchangeable lenses — even those developed for film-format cameras.* The K-50 offers several useful features to assist you during shooting, including an Automatic Horizon Correction function to assure high-precision image framing and effortless adjustment of horizontal alignment; a Composition Adjustment function to allow minute adjustment of image alignment both to horizontal and vertical directions, as well as slant-wise rotation; and an ASTROTRACER mode to simplify astronomical photography in combination with the optional O-GPS1 GPS Unit.
* Lenses compatible with this mechanism: PENTAX K, KA, KAF, KAF2 and KAF3 mount lenses; screw-mount lenses (with an adapter); and 645 and 67system lenses (with an adapter). Some functions may not be available with certain lenses.
High-precision autofocus with SAFOX IXi+ AF module
The K-50's state-of-the-art SAFOX IXi+ AF sensor module assures responsive, high-precision autofocus operation with 11 sensors (including nine cross-type sensors in the middle). It also features a spotbeam projector to assist AF operation at poorly lit locations. Its select-area expansion function keeps the sensor module tracking a moving subject, even when it moves out of a pre-assigned auto-tracking area, by assessing the distance data collected by neighboring focus sensors.
Eye-Fi Card Compatibility
With Eye-Fi wireless LAN SD memory cards, you can automatically transmit recorded images to a smartphone. New built-in menus allow you to easily enable automatic transmission of images and video to a smartphone for rapid sharing. You can even select favorite images and resize them before transmission.
High-quality movie recording
Full 1080p HD video capture at 30 frames per second (60 FPS for 720p) features efficient h.264 compression, flexible exposure control, and HDR finishing options for stunning video quality.
77-segment metering system
Highly accurate 77 segment metering system produces beautifully exposed images and video, even in complex lighting situations.
Traditional, Auto Picture and Scene modes
Traditional shooting modes feature PENTAX Sensitivity Priority (Sv) and Shutter And Aperture Priority (TAv) for outstanding flexibility, while powerful automatic modes like Auto Picture and Scene modes take the guesswork out of great photography.
Enhanced Creative Modes, multilayer filtering opportunities
Choose from 11 types of custom image modes and 19 digital filters, all with multi layering capabilities, for more creative expression than you ever dreamt of. The K-50 lets you show off your unique visions with real, high-resolution images.
Large High Resolution 3 inch LCD
Large 3 inch LCD with brightness and colour adjustments is wide angle viewable, and features 921,000 dots of resolution.
Dual-axis electronic level
For high precision horizontal and vertical alignment, use the electronic dual-axis level to make sure your shot is perfectly aligned with the horizon or framed just the way you want it. Measure both side-to-side and forward to backward tilt for the ideal shot.
In-body raw development and HDR shooting
Enjoy in-body raw development and in-camera HDR shooting mode, featuring multiple blending options to bring out the detail in wide gamut still imaging.
Programmable front & rear e-dials
Programmable front and rear e-dials enable PENTAX renowned Hyper Program and Manual modes, as well as other rapid no-look settings changes.
Standard Lithium-ion battery or optional use of AA-size batteries
Compatible with both rechargeable Li-Ion and AA batteries (via optional D-BH109 AA Battery Holder) for plentiful power at home or while travelling.

Type
TTL autofocus, auto-exposure SLR digital-still camera with built-in retractable P-TTL flash
Sensor
Type: CMOS with primary colour filter, integrated Shake/Dust Reduction sensor-movement system
Size: APS-C (23.7 x 15.7mm)
Effective Pixels: 16.28 megapixels
Total Pixels: 16.49 megapixels
Sensitivity
Auto: 100-51200 (1, 1/2, 1/3 steps), auto range selectable
Manual: 100-51200 (1, 1/2, 1/3 steps)
Lens Mount
PENTAX KAF2 bayonet stainless steel mount
Usable Lens
PENTAX KAF3, KAF2, KAF, and KA (K mount, 35mm screwmount, 645/67 med format lenses useable w/adapter and/or restrictions)
SDM function: Yes
Recording & Image Formats
Image Sizes
JPEG:16M(4928×3264), 12M(4224×2816), 8M(3456×2304), 5M(2688×1792)
RAW:16M(4928×3264)
File Formats
Still: RAW (DNG), JPG (EXIF 2.3), DCF 2.0 compliant
Quality Level
RAW (12bit): DNG
JPEG: ★★★ Best, ★★ Better, ★GoodRAW + JPEG: simultaneously recordable
Colour Space
sRGB, AdobeRGB
Storage Media
SD, SDHC, SDXC(Eye-Fi Card Compatible)
Focusing System
Type
Type: SAFOX IXi+ TTL phase-detection 11 point (9 cross) wide autofocus system with light wavelength sensor and diffraction lens
Brightness Range
EV-1 to 18 (ISO 100)
AF Modes
Auto AF (AF.A), Single AF (AF.S), Continuous AF (AF.C)
Focus priority or shutter priority mode for AF.S
Focus priority or FPS priority mode for AF.C
Focus Point Adjustment
Auto 11 pt, Auto 5 pt, User-Selectable (w/Expanded Area AF), Center
AF assist
Dedicated LED AF assist light
Exposure Control
Metering System
TTL open aperture, 77 segmented metering, center-weighted and spot metering
Metering Range
EV 0 to 22 (ISO 100, 50mm F1.4)
Exposure Compensation
±5EV (1/3 and 1/2 steps)
Exposure Bracketing
3 frames, up to ± 3 EV in 1/3 or 1/2 steps
AE Lock
Yes (available via programmable AF/AE-L button)
Capture Modes
Mode selection: Hyper Program (P), Sensitivity Priority (Sv), Shutter Priority (Tv), Aperture Priority (Av), Shutter & Aperture Priority (TAv), Hyper Manual (M), Bulb (B), User (U1, U2), Scene (SCN), Auto Picture (AUTO), Movie
Auto Picture modes: Standard, Portrait, Landscape, Macro, Moving Object, Night Scene Portrait, Night Scene, Blue Sky, Forest
Scene modes: Portrait, Landscape, Macro, Moving Object, Night Scene Portrait, Sunset, Blue Sky, Forest, Night Scene, Night Scene HDR (JPG), Night Snap, Food, Pet, Kids, Surf & Snow, Backlight Silhouette, Candlelight, Stage Lighting, Museum
Custom Image modes: Bright, Natural, Portrait, Landscape, Vibrant, Radiant, Muted, Bleach Bypass, Reversal Film, Monochrome, Cross Processing
Face detection available: Yes
PASMB: P, A, S, M, B (extended modes Sv, TAv)
Digital filters (capture): Extract Colour, Toy Camera, Retro, High Contrast, Shading, Invert Colour, Colour
Dynamic range adjustment: Highlight, shadow
Digital level: Viewfinder (horizontal), LCD (horizontal, vertical), SR auto-level function
File/Folder customization: Folder name (standard, date), file name (standard, customizable), embed copyright
Playback Modes
Mode Selection: Single frame, Multi-image display (4, 9, 16, 36, 81 segmentation), Display magnification (up to 16x, scrolling and quick magnification available), rotating, histogram, bright/dark area warning, copyright display, calendar filmstrip, display, folder display, slideshow, Eye-Fi transfer
Mode Palette: Image Rotation, Digital Filter, Resize, Cropping, Slideshow, Save as Manual WB, Save Cross Processing, RAW Development, Index Print, Protect, DPOF, Movie Edit
Digital Filters (Playback): Monochrome, Extract Colour, Toy Camera, Retro, High Contrast, Shading, Invert Colour, Colour, Tone Expansion, Sketch Filter, Water Colour, Pastel, Posterization, Miniature, Soft, Starburst, Fish-eye, Slim, Base Parameter Adjustment
Video Capture
File Format
MPEG–4 AVC/H.264
Recorded Pixels
Full HD(1920×1080,16:9,30fps/25fps/24fps),
HD(1280×720,16:9,60fps/50fps/30fps/25fps/24fps),
VGA(640×480,4:3,30fps/25fps/24fps)
Quality Level
★★★ Best, ★★ Better, ★Good
Sound
Built-in monaural microphone, Recording Sound Level
Recording time
Up to 25 minutes; automatically stops recording if the internal temperature of the camera becomes high.
Capture Modes
Custom Image modes: Bright, Natural, Portrait, Landscape, Vibrant, Radiant, Muted, Bleach Bypass, Reversal Film, Monochrome, Cross Processing
Digital filters (capture): Extract Colour, Toy Camera, Retro, High Contrast, Invert Colour, Colour
Interval movie: 3 sec., 5 sec., 10 sec., 30 sec., 1 min., 5min., 10 min., 30 min., 1 hr., Recording time: 4 sec. to 99 hr., Start Interval setting: immediately, from the set time, Motion JPEG(AVI).
Movie editing functions: Movie Divide, Delete Selected Frames
White Balance
Type: Image sensor detection w/light wavelength sensor detection
Auto preset modes: Auto, Daylight, Shade, Cloudy, (D: Daylight Colour, N:Daylight White, W : Cool White, L: Warm White), Tungsten, Flash, CTE
Manual mode(s): a) 3 manual settings can be configured and saved, b) Kelvin colour temperatures can be selected, c) WB settings can be copied from a captured image
WB fine adjustment: ± 7 steps A-B axis or G-M axis
Shutter
Type: Electronically controlled vertical-run focal plane shutter
Shutter Speed: Auto: 1/6000 to 30 sec., Manual: 1/6000 to 30 sec. (1/3EV steps or 1/2EV steps), Bulb
Drive Modes
Mode selection: Single frame, Continuous (Hi, Lo), Self-timer (12sec., 2 sec.), Remote Control (0 sec., 3 sec.), Auto Bracketing (3 frames)
Continuous FPS: Approx 6 FPS (JPG, Continuous Hi), Approx 3 FPS (JPG, Continuous Lo)
Viewfinder
Type: Pentaprism
Coverage (field of view): 100%
Magnification: 0.92X (w 50mm F1.4 at infinity)
Standard focusing screen: Natural-Bright-Matte III (interchangeable)
Diopter adjustment: -2.5m to 1.5m
Depth of field preview: Optical (diaphragm stop-down), digital
LCD Monitor
Type: 3.0″ TFT colour LCD monitor w/brightness/colour adjustment
Resolution: 921,000 dots
Wide angle viewable: Yes
Live View
Type: TTL by CMOS image sensor
Field Of View: 100%
Display Modes: Magnification (2-6X), Grid Overlay (4×4, Golden Ratio, Scale), Bright/Dark Indication, Histogram
Built-in Flash
Type: : Retractable P-TTL pop-up flash
Guide number: 12m (ISO 100)
Coverage: 28mm wide angle (equiv 35mm)
Flash modes: P-TTL, Red-eye Reduction, Slow-speed Sync, Trailing Curtain Sync
Flash exposure compensation: -2 to 1 EV (1/3 steps)
External Flash Synchronization
Hotshoe (P-TTL), high speed sync and wireless w/PENTAX dedicated flash
Synchronization speed: 1/180 sec
Custom Function
27 custom-programmable functions available
Interfaces
Ports: USB 2.0 hi-speed, AV out
USB Connection: MSC/PTP
Video Output: NTSC, PAL
Microphone: Built-in monaural
Power Sources
Power source: Rechargeable Li-Ion battery D-LI109 (included), AA battery holder D-BH109 for 4 AA batteries (sold separately)
Recordable images: Li-Ion approx 480 (410 w /50% flash, CIPA)* AA lithium approx. 1250 (710 w/50% flash, CIPA)*
Playback time: Li-Ion approx 270 min*, AA lithium approx. 560 min
Movie recording time: 25 min max time per clip*
AC adapter available: Yes (sold separately)

* Tested in compliance with CIPA standard. Actual results may vary depending on shooting conditions/circumstances

Dimensions
(W x H x D): 129.0 mm × 96.5 mm × 70.0mm
Weight
Without battery or removable memory: 590g
Loaded and ready: 650g w/dedicated battery & SD memory card
Primary Construction material(s)
Reinforced polycarbonate over stainless steel chassis
Weather Resistant
Yes (81 weather protection seals)
Operating temperature
-10 to 40°C (14-104°F)
Time
World Time: 75 cities (28 time zones)
Language
English, French, German, Spanish, Portuguese, Italian, Dutch, Danish, Swedish, Finnish, Polish, Czech, Hungarian, Turkish, Greek, Russian

AC Adapter Kit K-AC128U
Model No. 38823

Battery Charger Kit K-BC109U
Model No. 39033

Rechargeable L-ION Battery D-LI109
Model No. 39066

PENTAX AA Battery Holder D-BH109
Model No. 39100

Focusing Screen Frame Matte MF-60
Model No. 38578

Focusing Screen Divided Matte ML-60
Model No. 38579

Focusing Screen Scale Matte MI-60
Model No. 38580

Focusing Screen Plain Matte ME-60
Model No. 38580

Magnifying Eyecup O-ME53
Model No. 30150

Remote Control F
Model No. 37377

Waterproof Remote Control O-RC1
Model No. 39892

Cable Switch CS-205 Cable Switch CS-205
Model No. 37248

PENTAX O-GPS1 GPS Unit
Model No. 39012

Image Sensor Cleaning Kit O-ICK1
Model No. 39357

Pentax O-ST128 Hand Strap Carbon Black
Model No. 39987

Pentax O-ST128 Hand Strap Carbon White
Model No. 39988

Pentax O-ST128 Hand Strap Carbon Beige
Model No. 39989

Pentax AF360FGZ II Flash Weather Resistant
Model No. 30438

Pentax AF540FGZ II Flash Weather Resistant
Model No. 30456

Black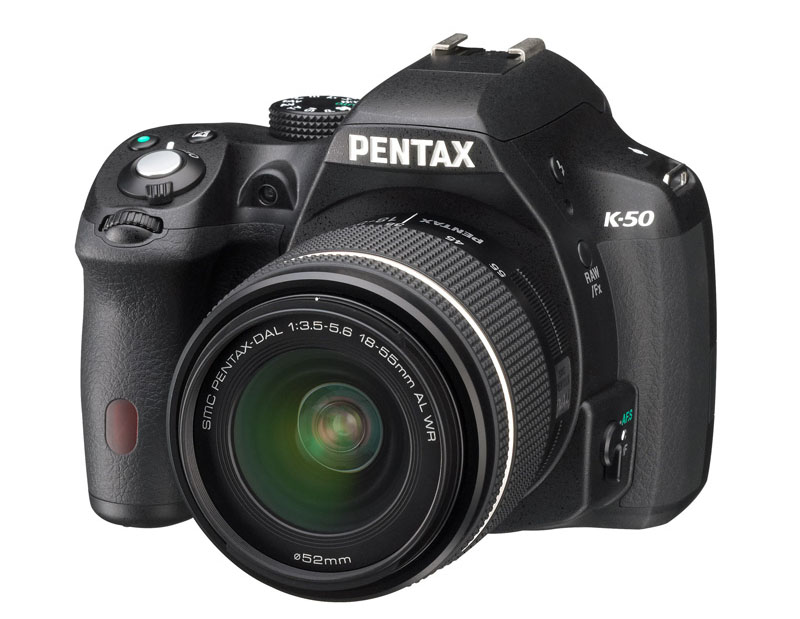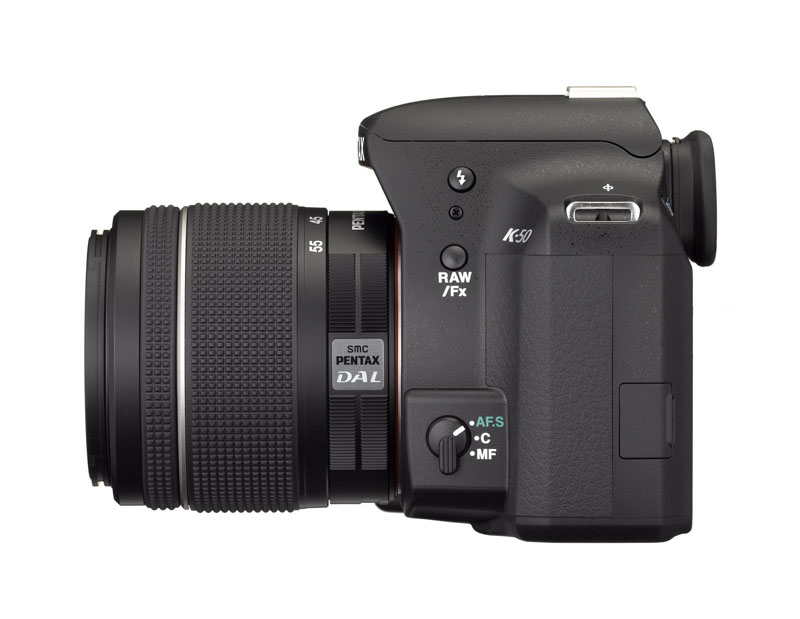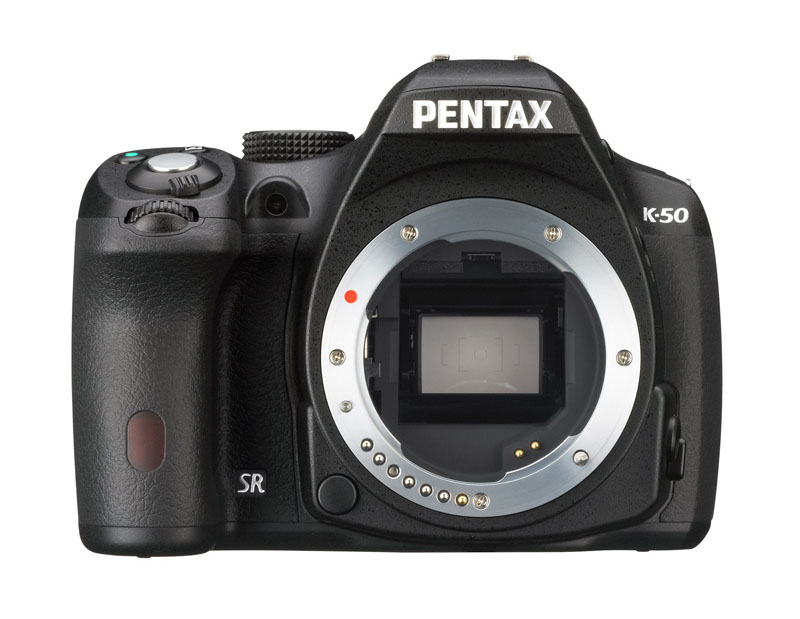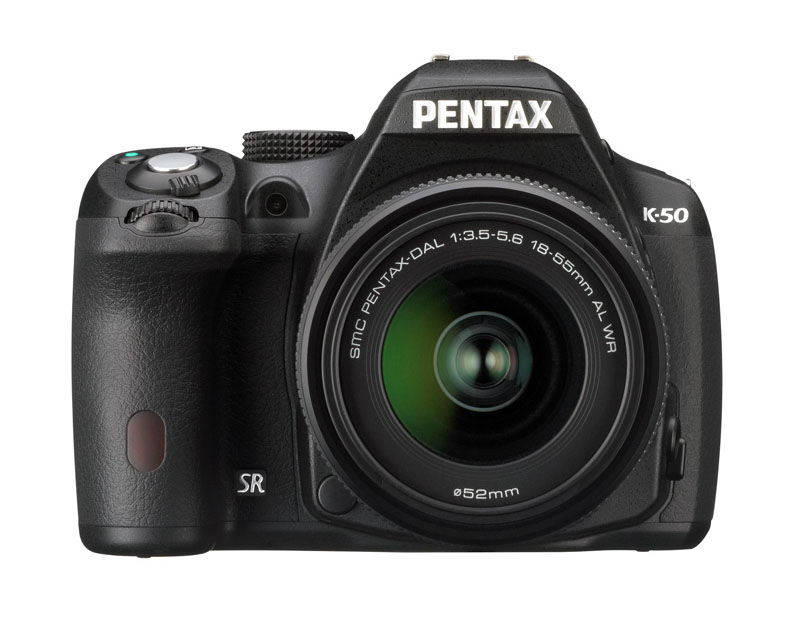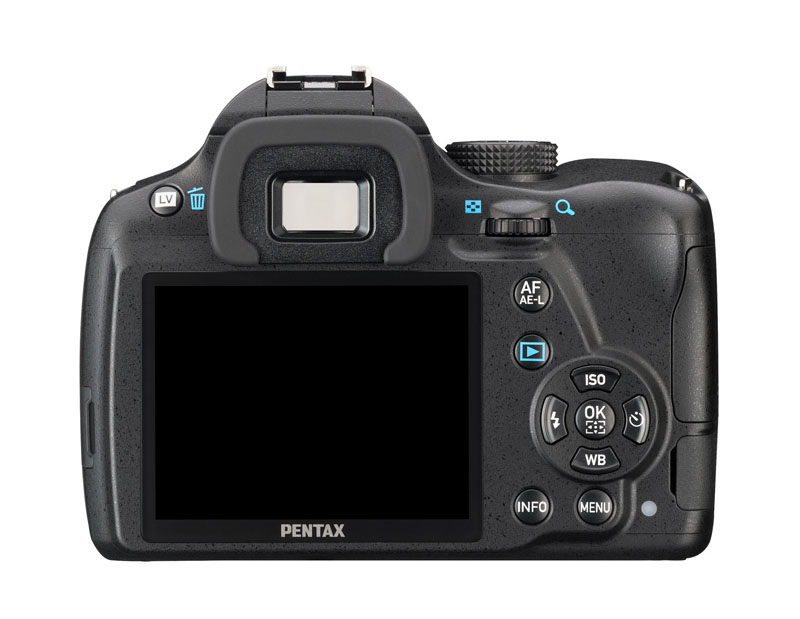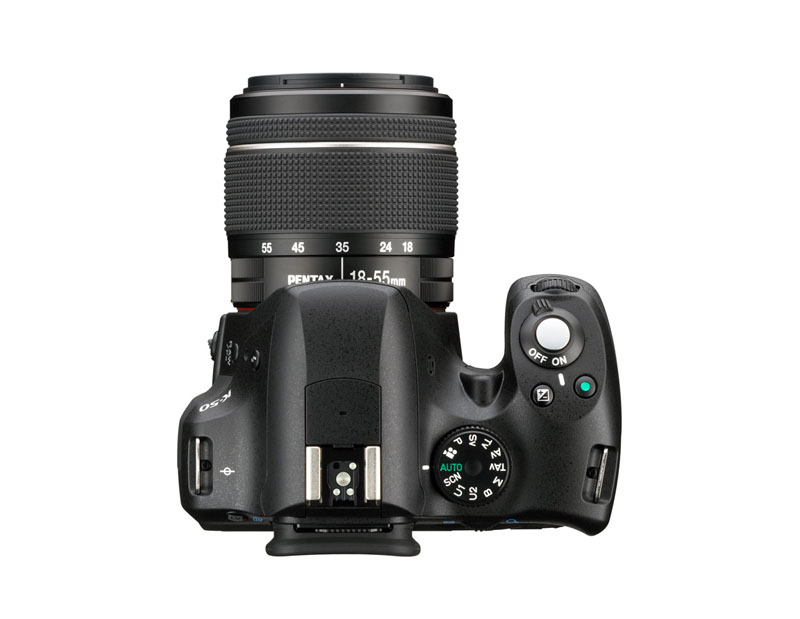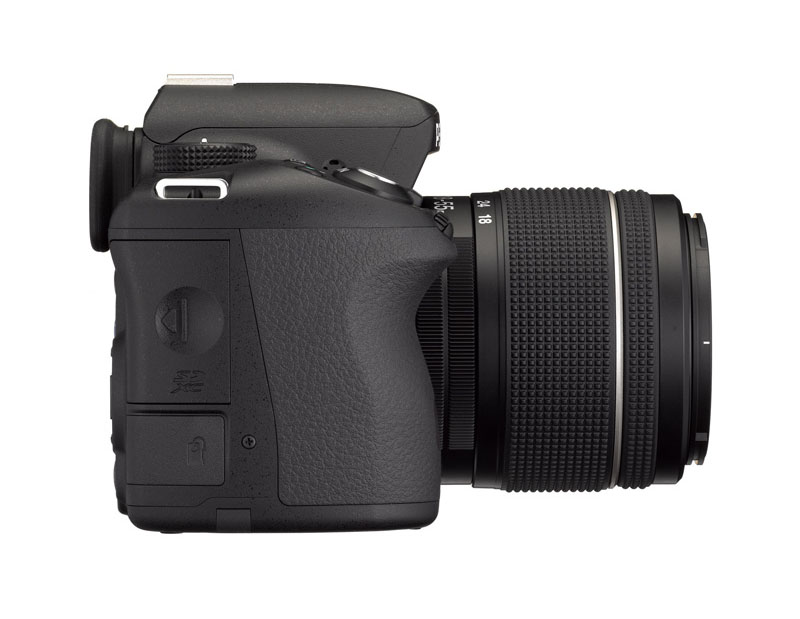 White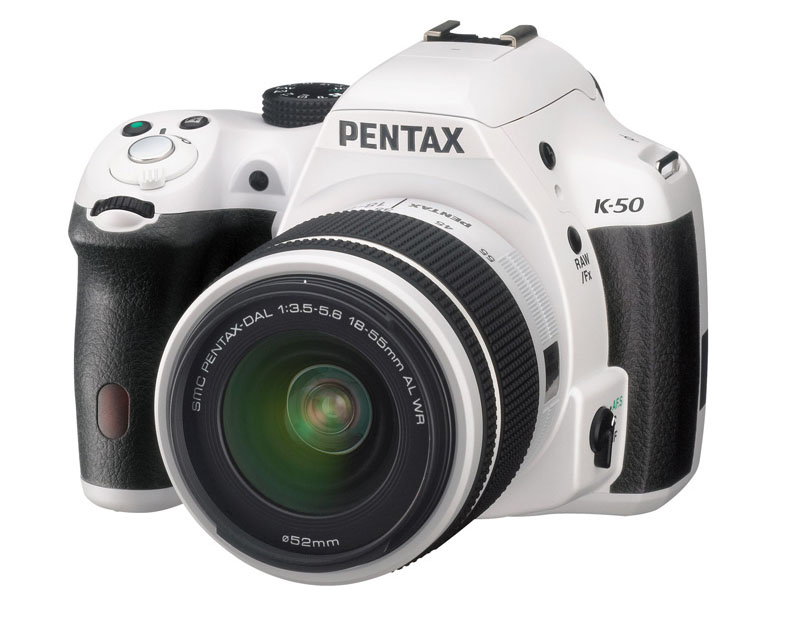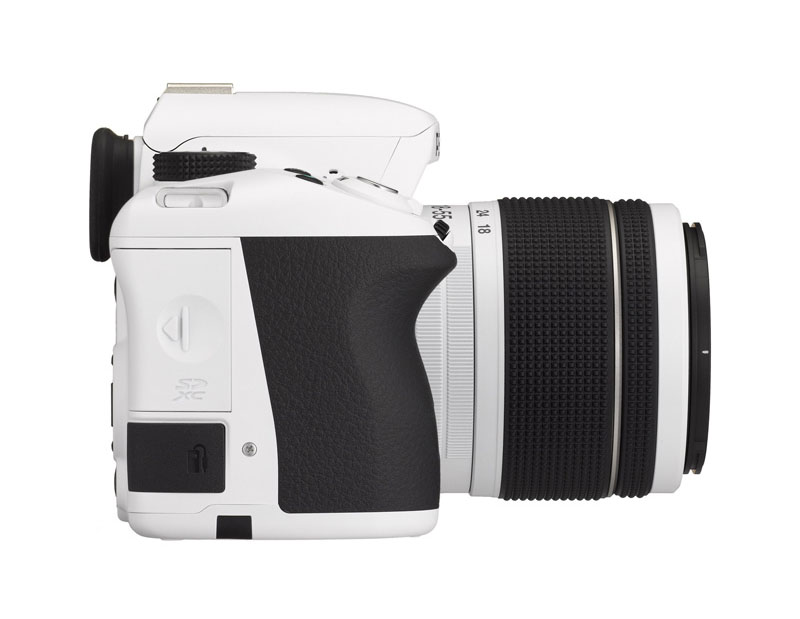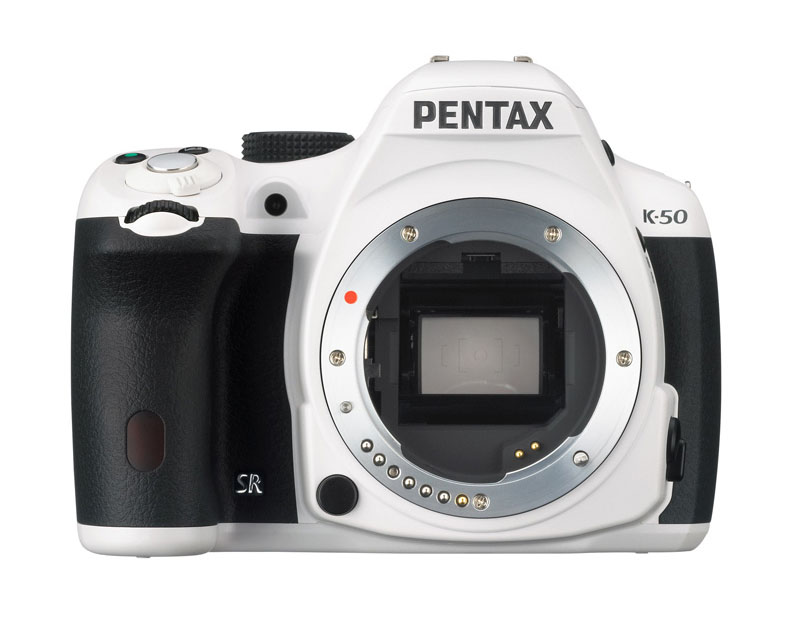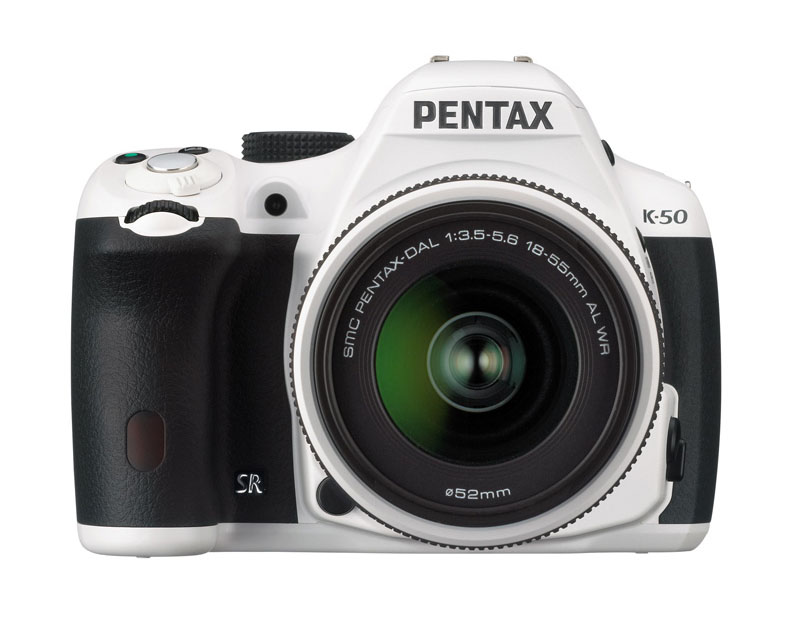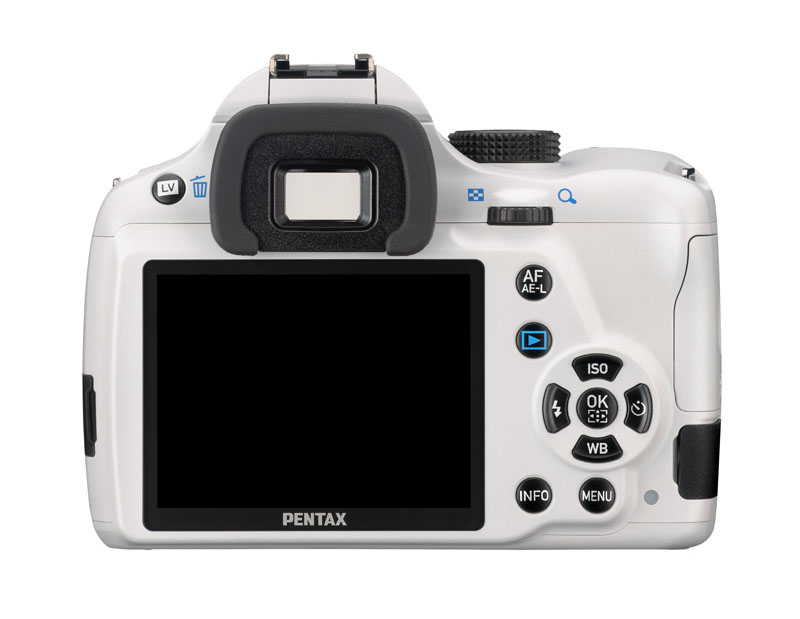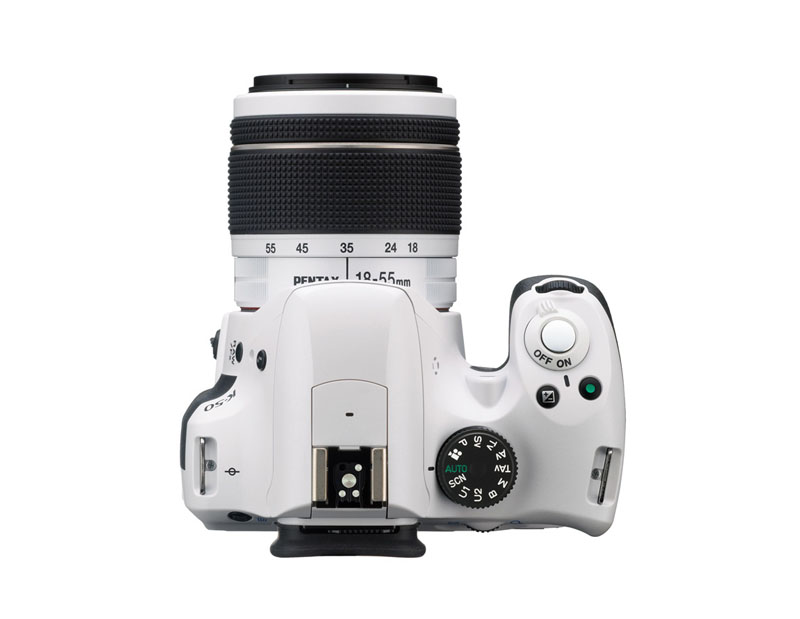 Red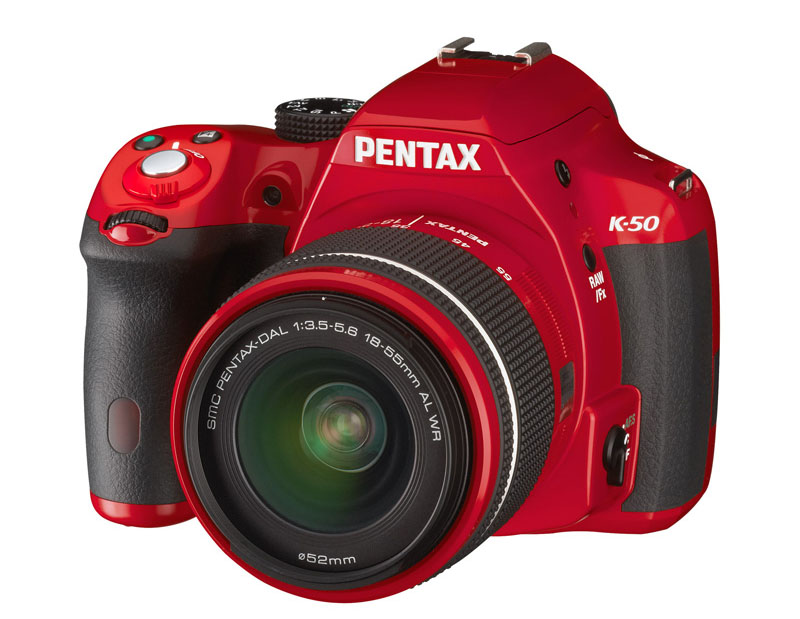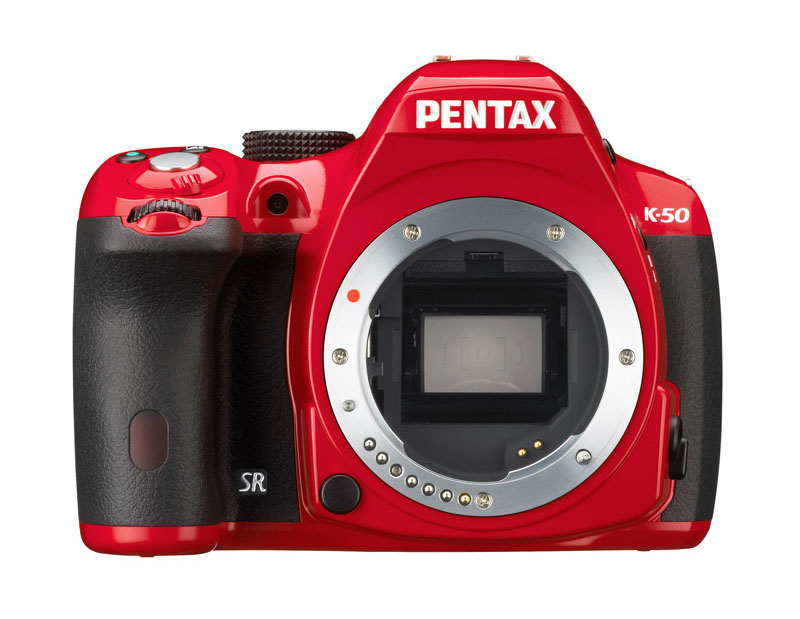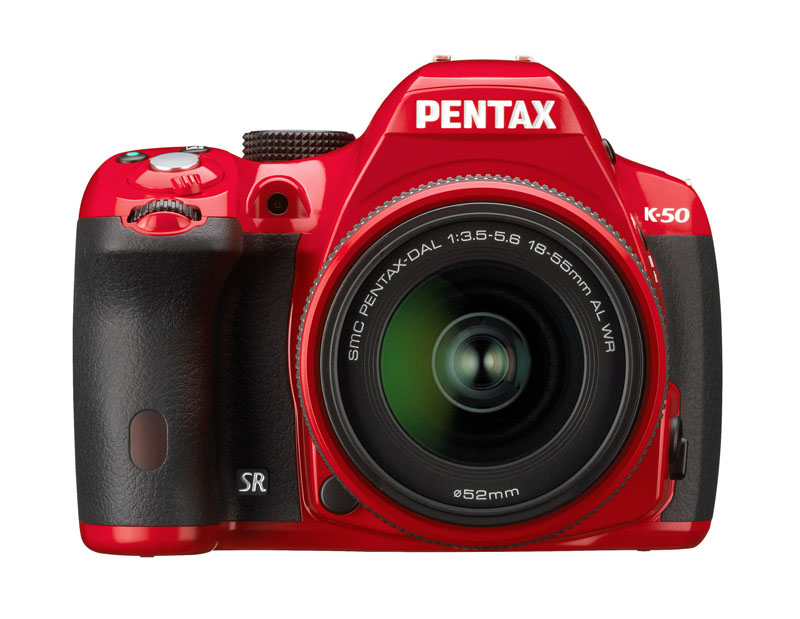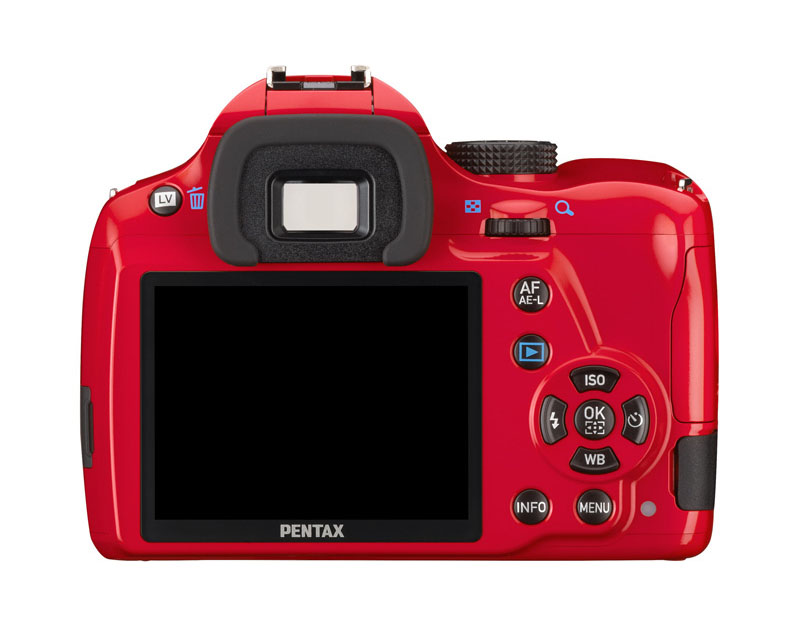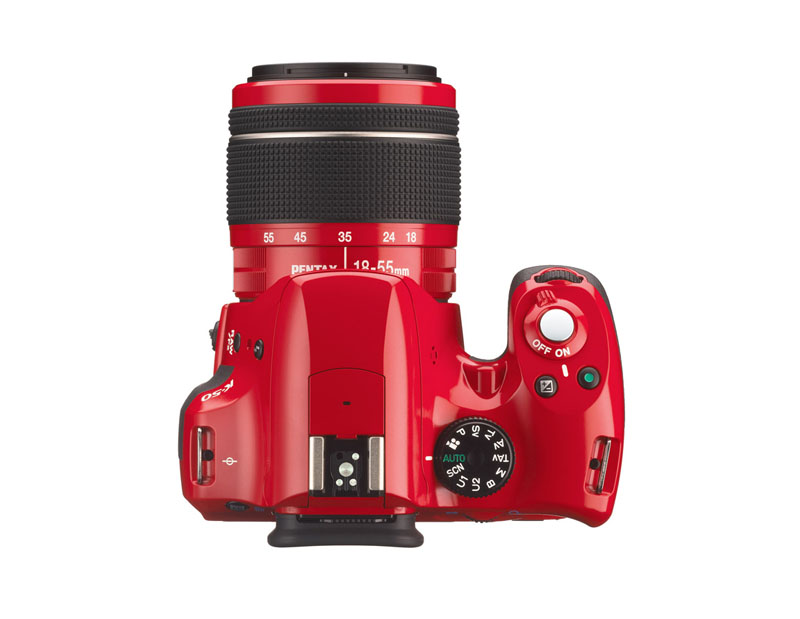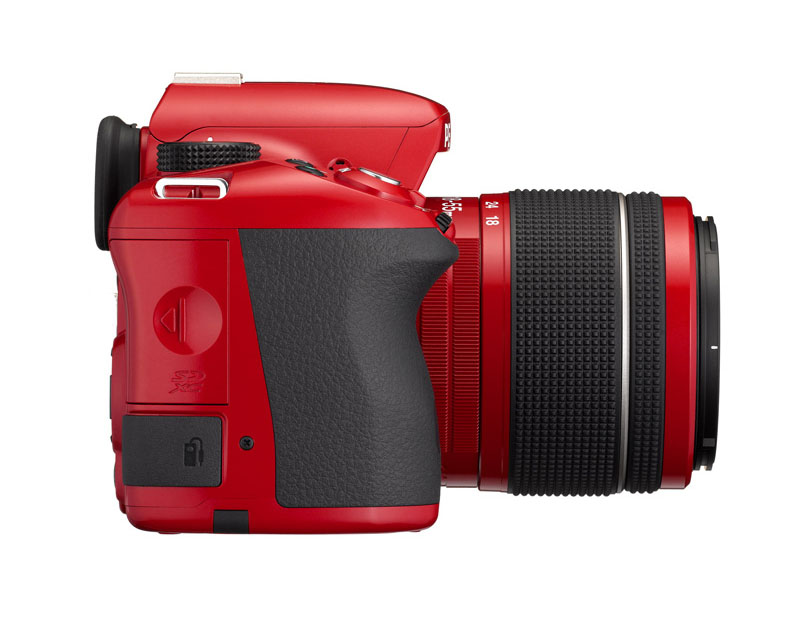 K-50 body
Battery Charger Kit K-BC109
Li-Ion Battery D-LI109
USB Cable I-USB7
Strap O-ST132
Hotshoe Cover FK
Body Mount Cover
Focusing Screen MF-60 Frame Matte
Eyecup FR
Software CD-ROM