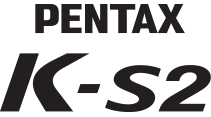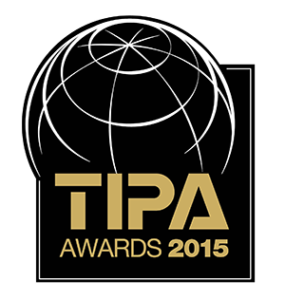 Share Life's Journeys.
Capture and share life's adventures with the PENTAX K-S2. Building on the legacy of great SLRs, Ricoh Imaging brings you our first DSLR with built-in WiFi and NFC (Near Field Communication ) for simple WiFi connectivity, allowing you to seamlessly share your images to social media as well as browsing images from remote tablet or PC. Capturing sharp images has never been easier with its 20 megapixel, AA Filter-less CMOS sensor and Prime MII imaging engine. With the new clarity enhancement feature and advanced HDR mode, photographers will find their images have higher clarity of texture reproduction, even for subjects without distinct contours, such as clouds. Other new features include a vari-angle LCD that extends freedom of shooting from high angle to ground level view. The PENTAX K-S2 follows in the footsteps of other great PENTAX DSLRs with is weather and dust resistant body, allowing you to capture the perfect shot regardless of weather or environmental conditions. Completing your kit is an all-new retractable standard zoom lens. This ultra thin, weather resistant lens matches perfectly with the compact body of the K-S2, offering carry everywhere convenience, wherever life's adventures take you. Shoot compelling images and share them instantaneously as the PENTAX K-S2 becomes your go-to photography companion.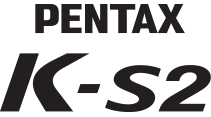 20-megapixel AA-Filterless CMOS sensor
A high performance 20 megapixel AA-Filterless APS-C CMOS image sensor strikes the perfect balance between resolution and image quality.
Prime MII Image Processing Engine
The PRIME MII image processing engine is optimized for HD video capture, smooth live view, low chromatic noise, and low energy consumption.
SAFOX X AF System
The SAFOX X AF module ensures fast and accurate autofocusing, even in challenging situations such as extremely low light environments. Equipped with 11 focusing points (9 cross-sensor points), the Center point also works with F2.8 luminance flux. Expanded area AF allows for accurate focusing, even on moving subjects.
Built-in WiFi
With the built-in WiFi and NFC module, users can wirelessly control camera operation, transfer images, and view images, making image transferring and sharing easy and seamless. A dedicated app (Image Sync) is available for Android and iOS devices. Image Sync app brings improved ease of use to wireless tethering.
Clarity Enhancement Feature and Advanced HDR Mode
Newly adopted clarity enhancement option adds more realistic texture impression to images by enhancing the spatial frequencies to match with human visual characteristics. Enjoy outstanding clarity even on screen-fit view on a variety of display monitors from a tablet PC to 4K high-resolution displays. Choose the Advanced HDR Mode (A-HDR) on the mode dial and "Clarity Enhancment" is automatically applied to images.
In-body Shake Reduction (SR)
The In-body shake reduction (SR) mechanism effectively compensates for camera shake regardless of the lens type mounted.
Smallest Weather-Resistant DSLR
The combination of K-S2's world's smallest weather resistant DSLR body and ultra thin zoom lens allows for compact size with exceptional DSLR power.
Fully Weather-sealed
With 100 weather seals throughout the entire body, your K-S2 ensures worry-free use in any weather condition or outdoor setting, be it rain or sand.
Retractable Standard Zoom Lens
This ultra thin, weather-resistant lens matches perfectly with the compact body of the K-S2, offering carry everywhere convenience. At only 41mm in height, this ultra-compact zoom features SMC coating and weather-resistant design.
Vari-angle LCD
The K-S2 is the first PENTAX DSLR with a Vari-angle LCD. It extends the freedom of shooting position from high angle to ground level view. The 3.0 inch, 921K dot Air Gapless LCD construction ensures good visibility of displayed image even outdoors. The electronic level indicator assists precise composition.
Pentaprism Viewfinder for 100% Field of View
Despite its compact size, the K-S2 features a glass prism finder with 100% field of view and approximately 0.95-times magnification (with a 50mm F1.4 lens at infinity) to cover the entire field of view for easy focusing and framing.
2 E-Dial Operations
2 Electronic dials enable simultaneous adjustment of aperture and shutter speed settings.
User Customization
Customization options to fit all users requirements. Various settings can be registered on User1, User2.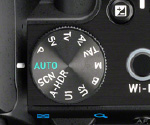 Self-Shot Assist
The K-S2's vari-angle LCD monitor and 2nd shutter release button help you to capture your best 'selfie' in just 3 steps.
High-speed shutter to capture fast-moving subjects in crisp focus
The K-S2 provides a top shutter speed of 1/6000 second to capture the decisive moment. Coupled with its high-speed continuous shooting function (with a top speed of 5.4 images per second), it lets the photographer freeze once-in-a-lifetime shutter opportunities. Versatile drive settings include: Multi-exposure, Interval shooting and Interval composite.
High-sensitivity shooting at ISO 51200
High sensitivity shooting up to ISO 51200 improves noise performance throughout, even in low lighting.
Full HD movie recording with stereo audio
The K-S2 captures beautiful Full HD movie clips at 30fps, which assures flawless, high-quality movies even with fast-moving subjects. It is also equipped with a built-in stereo microphone for recording natural sound during Full HD movie recording, as well as an external microphone connector. Capture time lapse movies in HD with the 'Star Stream' functionality, allowing you to record series of still images, such as stars, and save them as an AVI movie.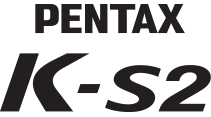 Type
TTL autofocus, auto-exposure SLR digital-still camera with built-in retractable P-TTL flash
Sensor
Type: CMOS with primary colour filter
Size: APS-C (23.5 x 15.6mm)
Effective Pixels: 20.12 megapixels
Total Pixels: 20.42 megapixels
Colour depth: 8 bits/channel JPG, 12 bits / channel RAW
Image Stabilization (Shake Reduction): Sensor-shift SR w/rotational compensation (3 stops avg. CIPA, 4 stops max)
Dust Removal: SP coating and CMOS sensor operation
Pixel mapping: Yes
Sensitivity
Auto: 100-51200 (1, 1/2, 1/3 steps)
Lens Mount
PENTAX KAF2 bayonet stainless steel mount
Usable Lens
PENTAX KAF3, KAF2, KAF, and KA (K mount, 35mm screwmount, 645/67 med format lenses useable w/adapter and/or restrictions)
SDM function: Yes
Recording & Image Formats
Image Sizes
JPEG:L (20M:5472×3648), M (12M: 4224×2816), S (6M: 3072×2048), XS (2M: 1920×1280)
RAW:L (20M: 5472×3648)
File Formats
Still: RAW (PEF/DNG), JPEG (Exif 2.30), DCF2.0 compliant
Quality Level
RAW: (12-bit) PEF, DNG
JPEG: ★★★ Best, ★★ Better, ★Good
Colour Space
sRGB, AdobeRGB
Storage Media
SD, SDHC, SDXC (UHS-1 compliant), Eye-Fi Card, FLU Card
Focusing System
Type
Type: TTL: phase-matching autofocus, SAFOX X, 11 point (9 cross type focus points in the center)
Brightness Range
EV-3 to 18 (ISO 100/ at normal temperature)
AF Modes
Single AF (AF.S), Continuous AF (AF.C), Auto select AF (AF.A)
Focus Point Adjustment
Auto: 5 points, Auto: 11 points, Select, Expanded Area Select, Spot
AF assist
Dedicated LED AF assist light
Focus peaking
Yes. ON / OFF
Exposure Control
Metering System
TTL open aperture, 77 segmented metering, center-weighted and spot metering
Metering Range
EV 0 to 22 (ISO 100, 50mm F1.4)
Exposure Compensation
±5EV (1/3 and 1/2 steps)
Exposure Bracketing
3 frames, up to ± 3 EV in 1/3 or 1/2 steps
AE Lock
Yes
Capture Modes
Mode selection: Program (P), Sensitivity Priority (Sv), Shutter Priority (Tv), Aperture Priority (Av), Shutter & Aperture Priority (TAv), Manual (M), Bulb (B), A-HDR, Scene (SCN), Auto Picture (AUTO), Movie, USER 1 & 2
Auto Picture mode: Auto Picture mode (Standard, Portrait, Landscape, Macro, Moving Object, Night Scene Portrait, Sunset, Blue Sky, Forest), Scene Mode (Portrait,Landscape, Macro, Moving Object, Night Scene Portrait, Sunset, Blue Sky, Forest, Night Scene, Night Scene HDR*, Night Snap, Food, Pet, Kids, Surf & Snow, Backlight Silhouette, Candlelight, Stage Lighting, Museum) Advanced HDR* (Exposure bracket value selectable from ±1, ±2 or ±3EV ) Program, Sensitivity Priority, Shutter Priority,Aperture Priority, Shutter & Aperture Priority, Manual, Bulb (* JPEG only)
Custom Image modes: Bright, Natural, Portrait, Landscape, Vibrant, Radiant, Muted, Bleach Bypass, Reversal Film, Monochrome, Cross Processing
Green simplified mode available: yes
Face detection available: Yes
Digital filters (capture): Extract Colour, Replace Colour, Toy Camera, Retro, High Contrast, Shading, Invert Colour, Unicolour Bold, Bold Monochrome
Dynamic range adjustment: Highlight, shadow
File/Folder customization: Folder name (standard, date), create new folder, embed copyright
Playback Modes
Mode Selection: Single frame, multi-image display (6,12, 20, 35, 80 segmentation), Display magnification (up to 16x, Quick magnification available), Rotating, Histogram (Y histogram, RGB histogram), Bright area warning, Detailed info., Copyright Information (Photographer, Copyright holder), Folder Display, Calendar Filmstrip Display, Slide Show, GPS information (Latitude, Longitude, Altitude, Time (UTC)
EDIT: Colour Moiré Correction, Resize, Cropping (Aspect ratio and Slant adjustment), Movie Edit (Divide or Delete selected frames), Capturing a JPEG still image from a movie, Saving RAW data in buffer memory
Digital Filters (Playback): Base Parameter Adj, Extract Colour, Replace Colour, Toy Camera, Retro,High Contrast, Shading, Invert Colour, Unicolour Bold, Bold Monochrome, Tone Expansion,Sketch, Water Colour, Pastel, Posterization, Miniature, Soft, Starburst, Fish-eye, Slim, Monochrome
Video Capture
File Format
MPEG-4 AVC/H.264 (MOV)
Recorded Pixels
Full HD (1920x1080p30/25/24), HD (1280x720p60/50)
Sound
Built-in stereo microphone, Recording Sound Level adjustable (Recording level meter)
Recording time
Up to 25 minutes or 4 GB; automatically stops recording if the internal temperature of the camera becomes high.
Capture Modes
Custom Image modes: Bright, Natural, Portrait, Landscape, Vibrant, Radiant, Muted, Bleach Bypass, Reversal Film, Monochrome, Cross Processing
Digital filters (capture): Extract Colour, Replace Colour, Toy Camera, Retro, High Contrast, Shading, Invert Colour, Unicolour Bold, Bold Monochrome
Movie editing functions: (Divide or Delete selected frames), Capturing a JPEG still picture from a movie
HDR Capture: Auto, Type1, Type2, Type3, Bracket Value adjustable (Interval Movie only)
Clarity Enhancement: ON / OFF (Interval Movie only)
White Balance
Type: TTL method using CMOS image sensor
AUTO WB, Multi Auto WB, Daylight, Shade, Cloudy, Fluorescent Light (D: Daylight Colour, N: Daylight White, W: Cool White, L: Warm White), Tungsten Light, Flash, CTE, Manual WB, Colour Temperature Configuration, Copying the white balance setting of a captured image
WB fine adjustment: +/- 7 steps A-B axis or G-M axis
Shutter
Type: Electronically controlled vertical-run focal plane shutter
Shutter Speed: Auto: 1/6000 to 30 sec., Manual: 1/6000 to 30 sec. (1/3EV steps or 1/2EV steps), Bulb.
Drive Modes
Mode selection: Still: Single frame, Continuous (H, L), Self-timer (12s, 2s,Continuous), Remote Control (0 Sec., 3sec., Continuous), Bracketing, Multi-exposure (Possible to use with Continuous, Self-timer or Remote Control), Interval Shooting, Interval Composite
Movie: Remote Control Interval, Movie recording, Star StreamContinuous FPS
Max. approx. 5.5 fps, JPEG (L: ★★★ at Continuous H): up to approx. 30 frames, RAW: up to approx. 9 frames
Max. approx. 3.0 fps, JPEG (L: ★★★ at Continuous L): up to approx. 100 frames, RAW: up to approx. 15 frames *ISO100
HDR: Auto, HDR1, HDR2, HDR3, Exposure Bracket Value adjustable +/- 1-3 EV (1/1 steps)
Viewfinder
Type: Pentaprism
Coverage (field of view): 100%
Magnification: 0.95X (w 50mm F1.4 at infinity)
Standard focusing screen: Natural-Bright-Matte III (interchangeable)
Diopter adjustment: -2.5m to 1.5m-1
Eye Relief: Approx. 20.5mm (from the view window), Approx. 22.3mm (from the center of lens)
Depth of field preview: Optical (diaphragm stop-down), Digital
LCD Monitor
Type: 3.0″ TFT colour LCD monitor w/brightness / saturation / colour adjustment
Resolution: 921,000 dots
Wide angle viewable: Yes. TFT colour LCD monitor featuring an air-gapless structure with an AR coated, tempered-glass front panel. Swing-out vari-angle monitor.
Live View
Type: TTL by CMOS image sensor
Field Of View: 100%
Display Modes: Magnified view (2x, 4x, 8x, 10x), Grid display (4×4 Grid, Golden Section, Scale display), Histogram, Bright area warning
Built-in Flash
Type : Retractable P-TTL pop-up flash
Guide number: 12m (ISO 100)
Coverage: 28mm wide angle (equiv 35mm)
Flash modes: Auto Flash Discharge, Auto Flash + Red-eye Reduction (Auto Picture, Scene) Flash On, Flash On+ Red-eye Reduction, Slow-speed Sync, Trailing Curtain Sync, Manual Flash Discharge (Full-1/128)
Flash exposure compensation: -2 to 1 EV (1/3 steps)
External Flash Synchronization
Type: Hotshoe (P-TTL), Leading Curtain Sync, Trailing Curtain Sync, Contrast-control-sync, High speed sync, wireless sync (available with 2 dedicated external flash)
Synchronization speed: 1/180 sec.
Custom Function
28 custom-programmable functions available
Interfaces
Ports: USB 2.0 (micro B, high-speed compatible), HDMI output terminal (Type D)
USB Connection: MSC/PTP
Microphone: Built-in stereo microphone. Adjustable recording sound level.
WiFi
Standard: IEEE 802.11b/g/n
Center Frequency: 2412MHz~2462MHz (1ch~11ch)
Authentication: WPA2, Encryption: AES
NFC
ISO/IEC14443 TypeA, ISO/IEC14443 TypeB, JIS X 6319-4 (Automatically selected)- 13.56MHz
Power Sources
Power source: Rechargeable Li-Ion battery D-LI109 (included)
Recordable images: approx 480 (410 w /50% flash, CIPA
Playback time: Li-Ion approx 270 min*
Movie recording time: 25 min max time (4GB) per clip*, thermal cutoff
AC adapter available: Yes (sold separately)

* Tested in compliance with CIPA standard. Actual results may vary depending on shooting conditions/circumstances

Dimensions
(W x H x D): 122 mm x 91.0 mm x 72.5 mm
Weight
Without battery or removable memory: 618g
Loaded and ready: 678g w/dedicated battery & SD memory card
Primary Construction material(s)
Reinforced polycarbonate over metal chassis
Operating temperature
-10°C to 40°C
Time
World Time: 75 cities (28 time zones)
Language
English, French, German, Spanish, Portuguese, Italian, Dutch, Danish, Swedish, Finnish, Polish, Czech, Hungarian, Turkish, Greek, Russian Korean, Chinese (Simplified), Chinese (Traditional), Japanese
Weather Resistant
Yes (100 weather protection seals)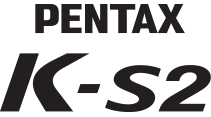 AC Adapter Kit K-AC128U
Model No. 38823

Battery Charger Kit K-BC109U
Model No. 39033

Rechargeable L-ION Battery D-LI109
Model No. 39066

Focusing Screen Frame Matte MF-60
Model No. 38578

Focusing Screen Divided Matte ML-60
Model No. 38579

Focusing Screen Scale Matte MI-60
Model No. 38580

Focusing Screen Plain Matte ME-60
Model No. 38580

Magnifying Eyecup O-ME53
Model No. 30150

Remote Control F
Model No. 37377

Waterproof Remote Control O-RC1
Model No. 39892

PENTAX O-GPS1 GPS Unit
Model No. 39012

Pentax AF360FGZ II Flash Weather Resistant
Model No. 30438

Pentax AF540FGZ II Flash Weather Resistant
Model No. 30456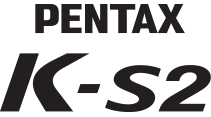 Black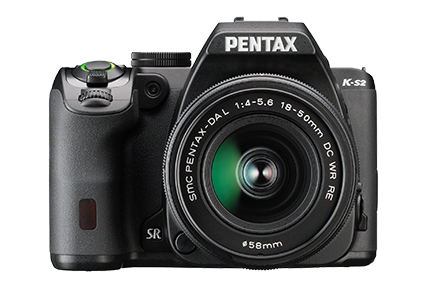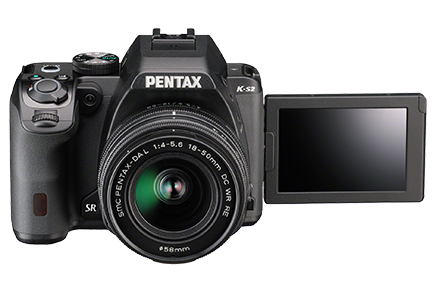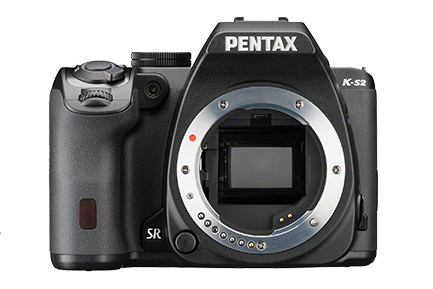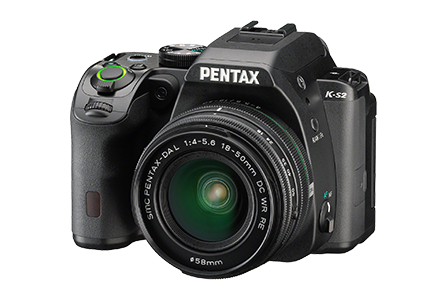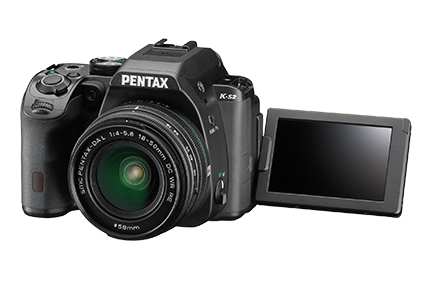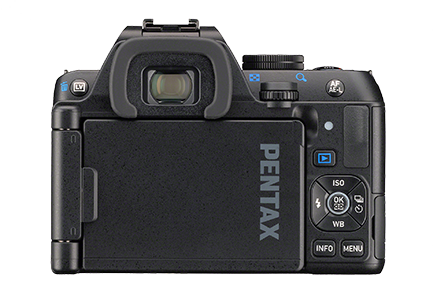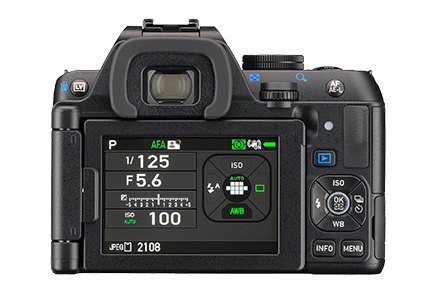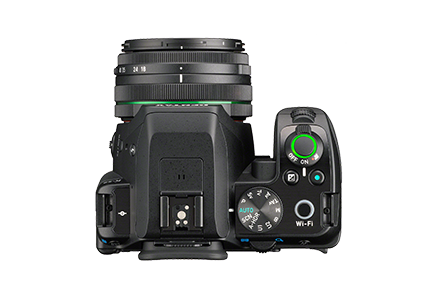 White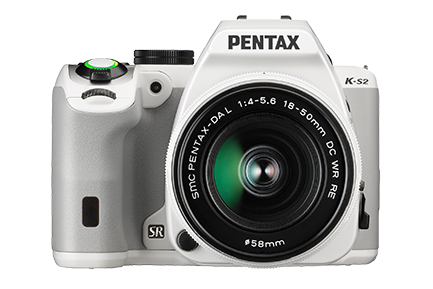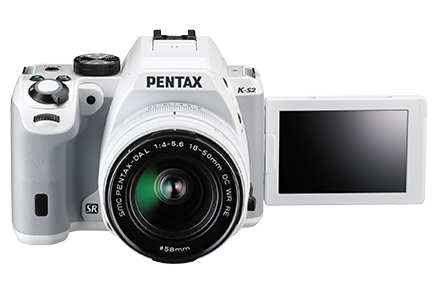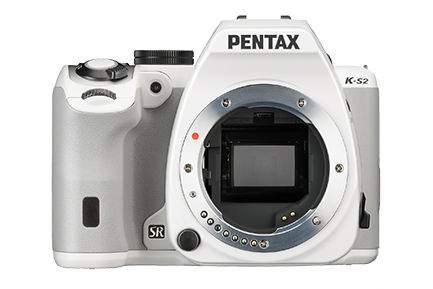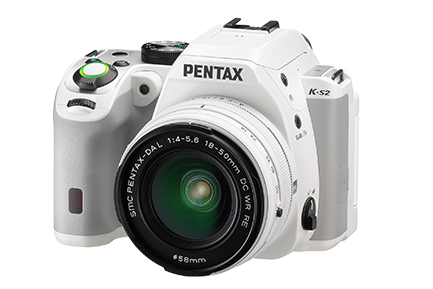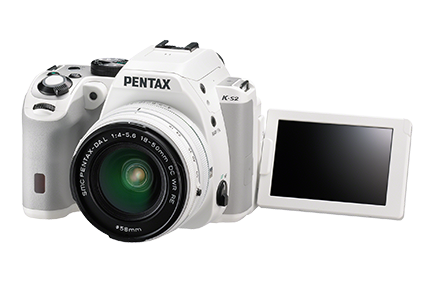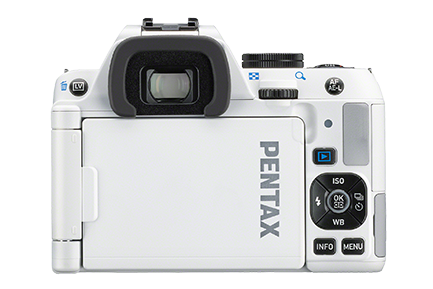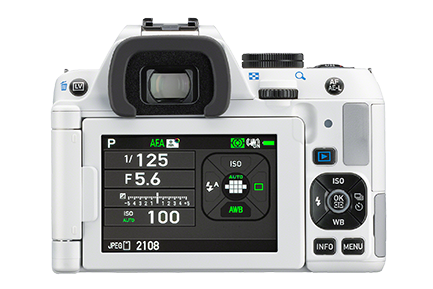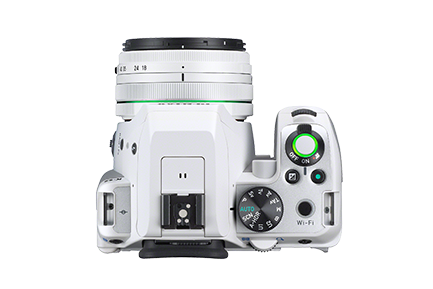 Orange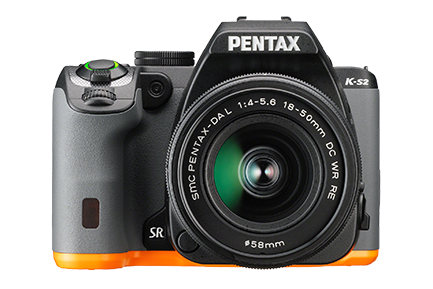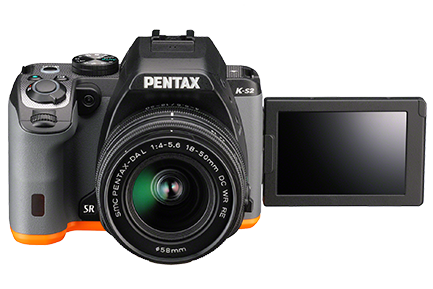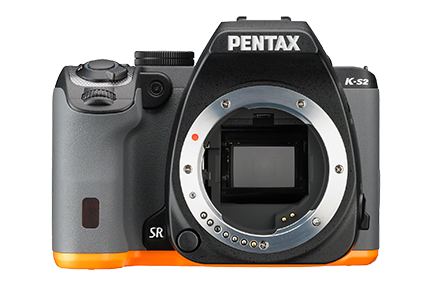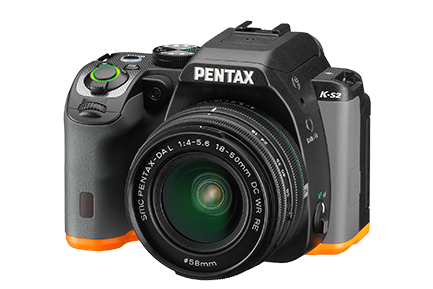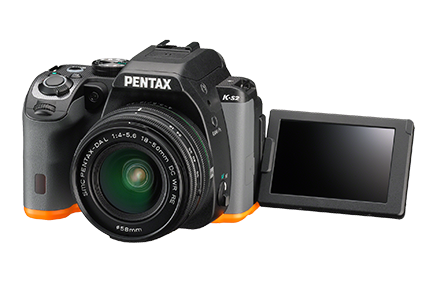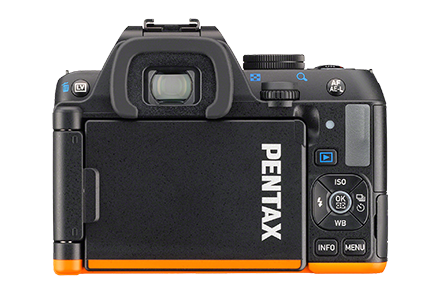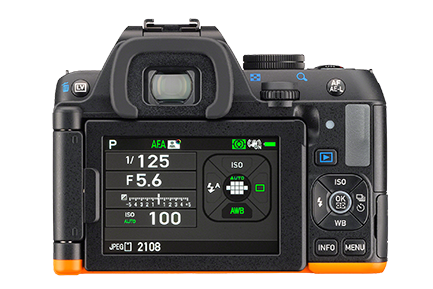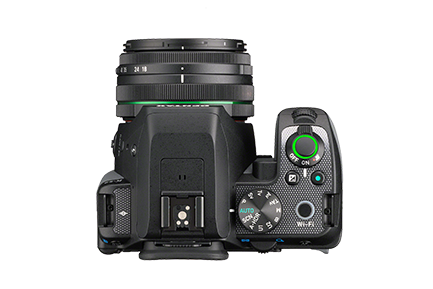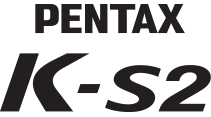 K-S2 body
Battery Charger Kit K-BC109
Li-Ion Battery D-LI109
Strap O-ST132
Hotshoe Cover FK (on camera)
Body Mount Cover (on camera)
Eyecup FR (on camera)
Software CD-ROM