The all-weather adventure camera
The RICOH WG-60 offers outstanding operability in demanding outdoor conditions. The latest addition to the WG series, the WG-60 is waterproof to a depth of 14 meters, shockproof against falls from a height of 1.6 meters, and freeze-proof to temperatures as low as -10°C. It delivers exceptional image quality with a 16 megapixel CMOS image sensor and Full HD (1920 x 1080 pixels) movie recording capability. It comes equipped with an outdoor-friendly LCD monitor whose brightness level can be adjusted to the lighting conditions, for ease of viewing and an improved shooting experience. Use the WG-60's creative shooting functions, such as interval shooting or digital microscope mode, to capture unique images seen from a totally different angle or viewpoint.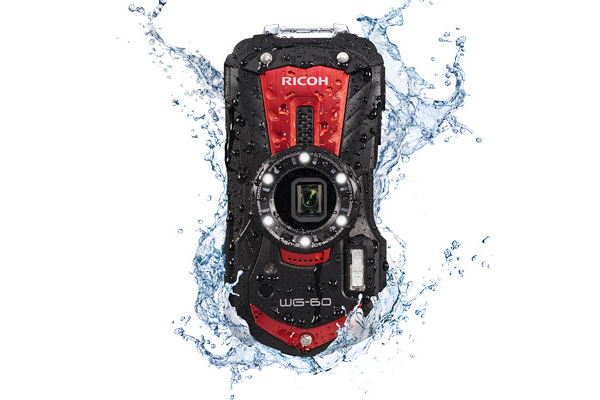 Robust construction and design
The WG-60 is a great companion for outdoor adventures. It can be used underwater continuously for up to 2 hours at a depth down to 14 m. Its crushproof construction can withstand weights up to 100 kgf (kilogram-force) and shockproof design protects it against drops of up to 1.6m. Exceptional cold-resistant performance ensures reliable operation at temperatures as low as –10°C.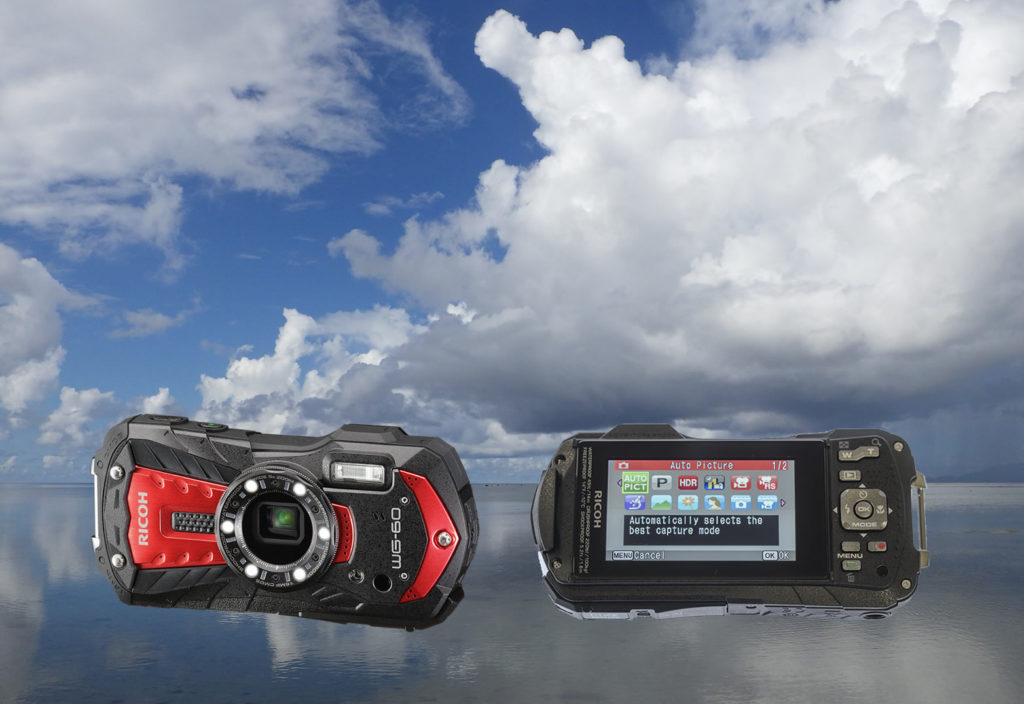 Clear, High Quality Images
The WG-60 comes equipped with a back-illuminated CMOS image sensor, with approx. 16 megapixels, which assures excellent high-sensitivity and low-noise characteristics with a top sensitivity of ISO 6400. The high performance 5x wide-angle optical zoom lens, with a focal-length coverage equivalent to 28-140mm in 35mm format, can accommodate a wide range of scenes and subjects.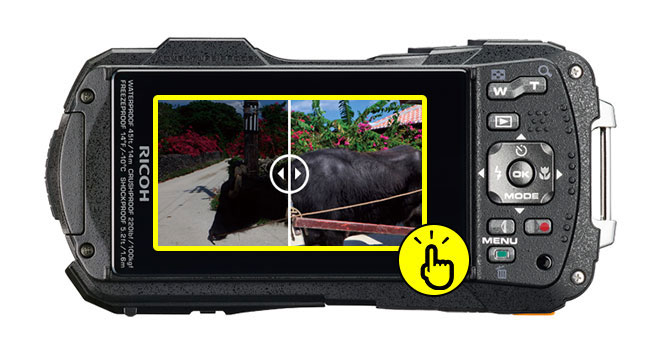 monitor display is artist's conception
Outdoor View Setting
The brightness of the LCD monitor can be adjusted to accommodate changes in ambient lighting conditions for ease of viewing and an improved shooting experience. Brightness can be increased to make dark areas of the display easier to see in sunlight, or lowered to reduce glare for night photography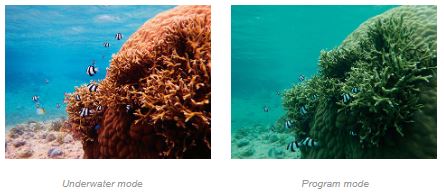 Underwater Shooting Mode
The Underwater and Underwater Movie shooting modes are programmed to optimize colour and contrast. These modes deliver sharp, true-to-life images by enhancing shades of red which are lost in underwater photography, while effectively compensating for the loss of contrast caused by the diffusion of light in water. During Underwater mode, the Flash Off + Flash On option allows you to consecutively capture two images with a single shutter release, providing greater usability for underwater photography.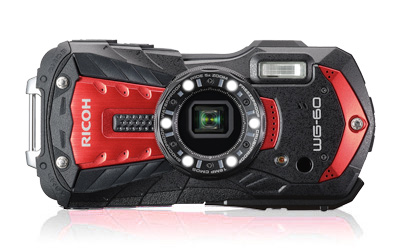 Six LED Macro Lights to assist close-up shooting
Capture the tiniest details while the positioning of six LED Macro Lights around the circumference of the lens barrel allows for brighter, uniform illumination on a subject when the Digital Microscope mode is selected*—perfect for insects, flowers, nature and still-life photography.
* When this mode is selected, the image size is fixed at 2.0 megapixels (at 16:9 proportions).
Full HD movie recording
The WG-60 provide Full HD movie recording employing the H.264 recording format. Users can capture high-quality, extended movie clips (1920 x 1080 pixels, 16:9 proportions) at a frame rate of 30 frames per second. To add some creative touches to movie recording, the WG-60 also features a high-speed camera function**, for slow-motion playback of captured movie clips, and an interval movie function.
** When this function is selected, the recorded size is fixed at 1280 x 720 pixels.
Other Features
A range of optional WG-series mount accessories are available to accommodate diverse camera setups
Macro stand (included) maintains a minimum focusing distance of one centimeter to the subject during extended observation and shooting of macro images
High-speed Face Detection function to capture as many as 32 faces in focus in approximately 0.03 seconds (minimum); Smile Capture function to automatically release the shutter when the subject's smile is detected
Auto Picture mode to automatically select the most appropriate shooting mode from 16 different scene modes
A choice of 12 digital filters

Lens
LensType/construction
RICOH lens, 11 elements in 9 groups (5 aspherical elements)
Focal Length
5 – 25 mm
(in 35mm format equivalent)
Approx. 28 – 140mm
Maximum Aperture
F3.5(W) – F5.5(T)
Zoom
Optical Zoom
5X
Digital Zoom
approx. 7.2X
Intelligent Zoom
approx. 7.5X at 7M, approx. 36X at 640 (including optical zoom)
Motion Blur Reduction
Still
Pixel Track SR Hi-sensitivity anti-shake mode (Digital SR)
Movie
Movie shake reduction mode (Movie SR)
Focus
Type
9-point AF, Spot AF, Auto tracking AF
Focus Range
Standard: 0.5m – infinity / 1.64ft. – infinity (entire zoom range)
Macro: 0.1 – 0.6m / 0.33 – 1.97ft. (entire zoom range)
1cm Macro: 0.01 – 0.3m / 0.03 – 0.98ft. (middle zoom position)
Infinity-landscape, Pan Focus, Manual Focus: available
Capture Modes
Face detection
Face Detection AF&AE is available for all modes up to 32 faces. Smile Capture, Self-portrait Assist, Self-portrait Assist + Smile Capture, Blink Detection
Pet detection
Detect up to 1 pet's face(auto)
Image Sensor
Type
1/2.3″ CMOS
Number of Effective pixels
Approx. 16 megapixels
Number of Recorded pixels
Still
16M, 12M(1:1), 12M(16:9), 7M, 5M(16:9), 5M, 4M(16:9), 3M, 2M(16:9), 1024, 640
Movie
1920, 1280
Sensitivity (Standard Output Sensitivity)
AUTO, Manual (ISO 125 – 6400)
White Balance
Auto, Daylight, Shade, Tungsten light, Fluorescent light (D:Daylight Color, N:Daylight White, W:White Light), Manual
Display
2.7″ Wide LCD, approx. 230K dots, AR Coating(Cover only)
Exposure Control
Metering System
Multi-segment metering, Center-weighted metering, Spot metering
Exposure Compensation
± 2EV (1/3EV steps)
Scene modes
Auto Picture, Program, HDR, Handheld Night Snap, Movie, High Speed Movie, Digital Microscope, Landscape, Flower, Portrait, Underwater, Underwater Movie, Interval Shot, Interval Movie, Surf & Snow, Kids, Pet, Sport, Night Scene, Night Scene Portrait, Fireworks, Food, Digital SR, Report, Green
Playback modes
Slideshow, Image Rotation, Small Face Filter, Ink Rubbing Filter, Collage, Digital Filter (B&W / Sepia, Toy Camera, Retro, Color, Extract Color, Color Emphasis, High Contrast, Starburst, Soft, Fish-eye, Brightness, Miniature), HDR Filter, Original Frame, Movie Edit, Red-eye Edit, Resize, Cropping, Image Copy, Protect, Start-up Screen
Shutter Speed
1/4000 – 1/4sec. (Mechanical and electronic shutter), 4sec at most. (Night Scene mode setting)
Built-in flash
Modes
Flash-on and Flash-off modes. "Red-eye" compensation function employs a pre-discharge.
Flash Range
Wide:approx. 0.2 – 5.5m / 0.66 – 18 ft. (ISO Auto)
Tele:approx. 0.2 – 3.5m / 0.66 – 11 ft. (ISO Auto)
Drive Modes
Mode selection
One shot, Self-timer, Continuous Shooting, Burst Shooting, Remote Control, Auto Bracketing
Storage Media
Internal Memory
Built-in Memory (approx. 68MB)
Removable Memory
SD/SDHC/SDXC Memory Card FlashAir Card
Power Supply
Power Source
Rechargeable D-LI92 lithium-ion battery
Battery life
Still*: approx. 300 shots (Rechargeable Lithium-ion battery)
Playback**: approx. 260 min. (Rechargeable Lithium-ion battery)
Interfaces
Ports
USB2.0(Micro-B), HDMI output terminal (Type D)
Physical Specifications
Weight
With battery & SD card: approx. 193g / 6.8 oz. (loaded and ready)
Without battery and SD memory card: approx. 173g / 6.1 oz. (body)
Dimensions
Approx. 122.5 (W) x 61.5 (H) x 29.5 (D)mm /4.8 (W) x 2.4 (H) x 1.2 (D) inches (including lens depth)
Water proof / Dustproof
Equivalent to JIS Class 8 waterproof and JIS Class 6 dustproof capabilities
* Recording capacity shows approximate number of shots recorded during CIPA-compliant testing. Actual performance may vary depending on operating conditions.
** According to the result of RICOH IMAGING in-house testing.

Battery Charger Kit K-BC92U
Model No. 39805

Rechargeable L-ION Battery D-LI92
Model No. 39800

Waterproof Remote Control O-RC1
Model No. 39892

Protector Jacket O-CC1252
Model No. 39986

O-CH1470 WG Holder
Model No. 37033 * WG Mounting Plates sold separately.

O-CM1471 WG Flat Adhesive Mount
Model No. 37030

O-CM1472 WG Handle Bar Mount
Model No. 37031

O-CM1473 WG Suction Cup Mount
Model No. 37032

O-CM1532 WG Flat Adhesive Mount 2
Model No.37041

O-CM1533 WG Wrist Strap Mount
Model No. 37042

O-CM1534 WG Peg Mount
Model No. 37043

O-CM1535 WG Magnet Mount
Model No. 37044

O-CM1536 WG Helmet Strap Mount
Model No. 37045

O-MA1532 WG Angle Adapter
Model No. 37047

Red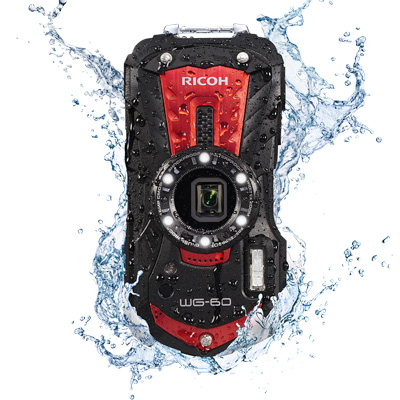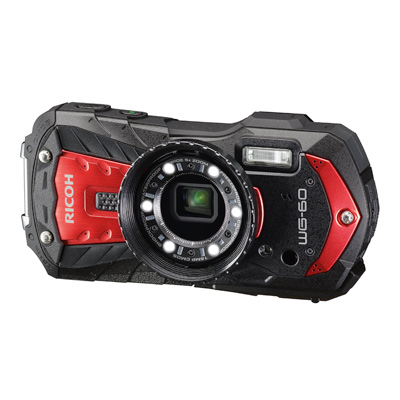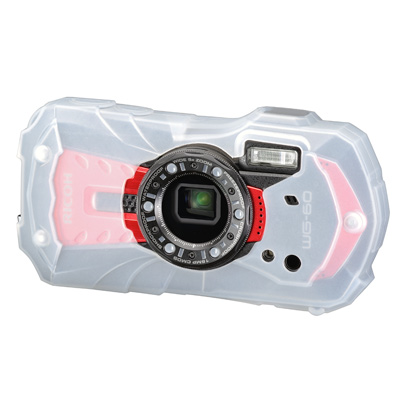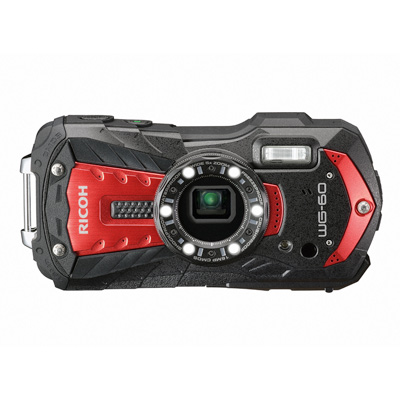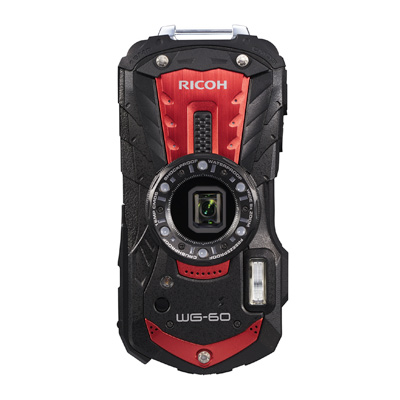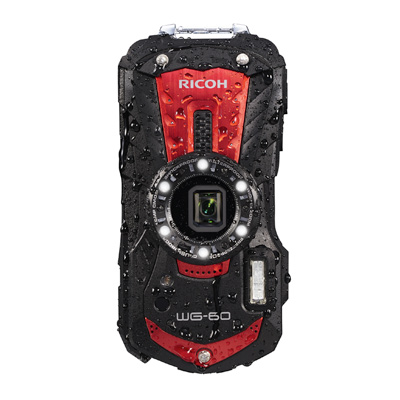 Black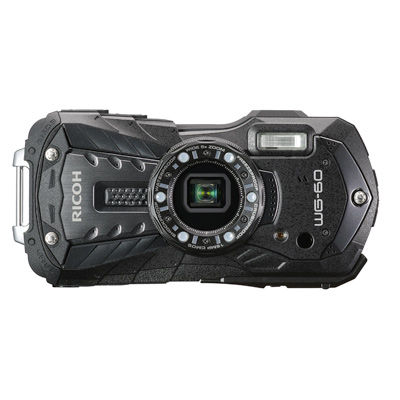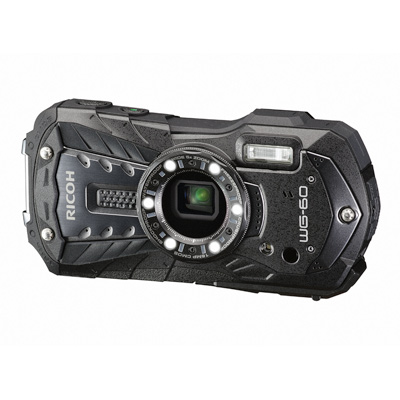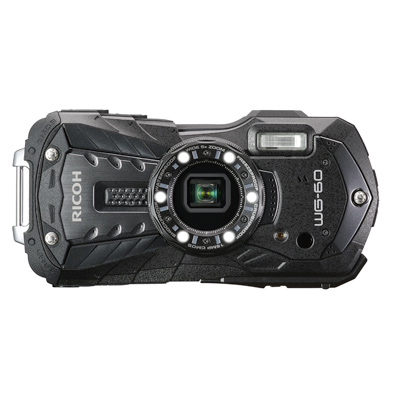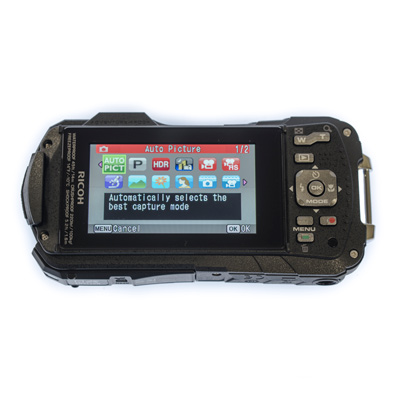 WG-60
Rechargeable Li-Ion Battery D-LI92
Power Adapter D-PA164J
USB Cable I-USB157
Strap O-ST104
Macro Stand O-MS1