HD PENTAX-DA 55-300mm F4.5-6.3ED PLM WR RE
Designed for use with PENTAX K-mount DSLR cameras, the weather-resistant HD PENTAX-DA 55-300mm F4.5-6.3ED PLM WR RE telephoto zoom lens provides enhanced autofocus (AF) performance and outstanding optical performance in an ultra compact and lightweight package.
It provides effective focal lengths between 84.5mm and 460mm when mounted on a PENTAX APS-C format DSLR. Its design enables quiet, high-speed AF operation in still-image shooting, as well as smooth and quiet AF tracking operation during video recording, with minimal noise created by focus and aperture shifts.
Multi-layer HD (high-definition) coated optics deliver sharp, bright, high-contrast images free of flare and ghost image. The HD PENTAX-DA 55-300mm F4.5-6.3ED PLM WR RE lens offers a minimum focusing distance of 0.95 meters to further expand the range of photographic applications. With a fully retractable design, it measures only 89 millimeters long when retracted and weighs less than one pound (442 grams), making it easy to carry around, even for casual shooting.
Fully-weather-sealed, this lens is a durable and dependable companion for outdoor shooting—even in rain, snow or other wet conditions—when used with any one of the many weather-resistant PENTAX DSLR's available.
Improved high-speed AF operation using a pulse motor (PLM) for smooth, quiet, and immediate response.
Quiet AF operation and electromagnetic diaphragm control, perfect for movie recording.
Provides approximately 5.5-times zoom coverage from medium- to super-telephoto ranges with a minimum focusing distance of 0.95 meters and focal lengths from 84.5mm to 460mm (35mm equiv.).
Compact form factor – only 89 millimeters long and weighing just 442 grams, the lens is extremely compact and lightweight.
Dependable weather-resistant construction with 11 sealing parts to effectively prevent the intrusion of water into the lens.
HD coating assures higher light transmittance and less reflection to deliver bright, high-contrast images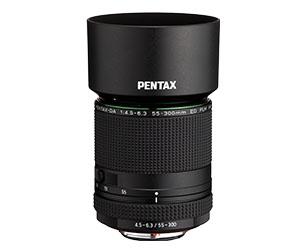 HD PENTAX-DA 55-300mm F4.5-6.3ED PLM WR RE
Lens Mount
PENTAX KAF4 mount
Focal Length
55-300mm (84.5 – 460 mm in 35mm format , w/ PENTAX APS-C DSLR)
Angle of View
29-5.4°
Lens Construction(group/elements)
14 elements in 11 groups
Diaphragm control
Electromagnetic Diaphragm
Fully Automatic
Number of aperture blades
9 (Rounded Aperture: 55mm: F4-5.9, 300mm: F6.3-13)
Min. Aperture (f)
F22-32
Min. Focusing Distance
0.95m
Max. Magnification
0.30X
Filter Size
58mm
Diameter & Length (mm)
76.5mm x 89mm
Weight (g)
442g w/o hood
471g w/hood
Notes
HD Coating
SP (Super Protect) Coating
QSF (Quick Shift Focus)
ED (Extra-low Dispersion)
WR (Weather Resistant)
PLM (Pulse Motor)
RE (Retractable)
Model No.
21277 – Black
Image Gallery