HD PENTAX-DA 645 28-45mm F4.5 ED AW SR
The HD PENTAX-DA645 28-45mm F4.5 ED AW SR is optimized to provide premium performance with the PENTAX 645 Digital cameras. While this ultra wide angle zoom lens is ideal for landscape photography – capturing an expansive view it is also the perfect lens for architectural photography requiring a wide-angle of view with minimal distortion.
Optimized for use with PENTAX medium-format digital SLR cameras
This zoom lens offers a zoom ratio of approximately 1.6X to cover ultra-wide-angle to wide-angle ranges (equivalent focal lengths of 22mm to 35.5mm in the 35mm format), when mounted on a PENTAX 645Z or 645D camera body. Producing visual effects unique to wide-angle lenses, including exaggerated perspective and expanded depth-of-field, this lens can be used for a wide variety of scenes and subjects, such as sweeping landscapes, architecture and cramped rooms, adding more versatility to advanced medium-format digital SLR photography.
State-of-the-art optical design optimized for super-high-resolution medium format images
Designed as the HD PENTAX DA-series model in the PENTAX 645 lens series, its image circle is optimized for the image sensor of the PENTAX 645Z camera body. Its optics consist of 17 elements in 12 groups, including two high-performance aspherical elements and two ED (Extra-low Dispersion) elements, to enhance image resolution and brightness at edges, while minimizing various aberrations. Coupled with innovative lens coatings and an anti-reflective coating (applied to the interior of the lens barrel), this lens is designed to bring out the best performance of PENTAX medium-format digital SLR cameras.
HD Coating and Aero Bright Coating optimize light transmission and minimize reflections
This lens is treated with the high-grade, multi-layer HD Coating* to optimize light transmission and minimize reflections. HD coating delivers sharp, clear images free of flare and ghost images, even under demanding lighting conditions such as backlight. By coupling this coating with the PENTAX-exclusive, high-grade Aero Bright Coating,** this lens is designed to provide exceptionally high light transmission and super-low refraction.
* HD stands for High Definition.
** A PENTAX-original lens coating process developed through the use of nanotechnology. Using a silica aerogel with a uniform porous structure as the base material, this coating produces clear, high-quality images by assuring outstanding anti-reflection performance over a broad wavelength range.
PENTAX-original, lens-installed SR mechanism
This PENTAX-innovated SR (Shake Reduction) mechanism is incorporated within the lens barrel. It effectively compensates for camera shake up to approximately 3.5 (shutter) stops. Users are assured of sharp, blur-free images even under conditions prone to camera shake, such as when handholding the camera in poorly lit locations without flash, when photographing sunsets or when using a long lens.
Dependable dustproof, weather-resistant construction
As the newest member of the AW (All Weather) series, this lens features dependable dustproof, weather-resistant construction with 11 special seals to effectively prevent the penetration of dust and moisture. When used on the PENTAX 645D or 645Z camera body, the user is assured of a durable, reliable digital imaging system that performs superbly in demanding shooting settings – in rain or mist, or in locations prone to water splashes or spray.
Other features
SP (Super Protect) Coating applied to the front surface of the lens to effectively repel water and grease
Rounded diaphragm blades to produce a smooth, beautiful bokeh (out-of-focus rendition), while minimizing the streaking effect of point light sources
Built-in DC motor for smooth, quiet autofocus operation
Quick-Shift Focus system for instant switching to manual-focus operation after focus confirmation by the camera's AF system
Unique lens design allows filters to be attached without obstruction from front optics.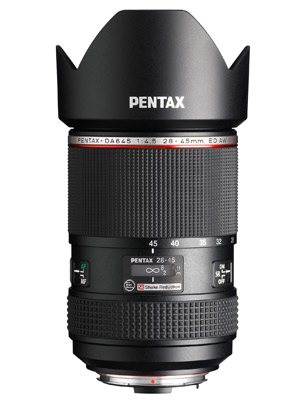 Specifications
HD PENTAX-DA 645 28-45mm F4.5ED AW SR
Lens Mount
PENTAX 645AF2 bayonet
Image Stabilization
Shake Reduction in Lens Barrel
Angle of View
89-63 degrees on 645D/645Z
Focal Length
28-45mm (35mm equiv. 22-35.5mm)
Lens Construction(group/elements)
17 elements in 12 groups
Min. Aperture (f)
F32
Min. Focusing Distance
0.4m (1.32 ft.)
Max. Magnification
0.21X
Filter Size
82mm
Diameter & Length (mm)
99mm x 151.5mm (3.9" x 6.0")
Weight (g)
1470g (51.9 oz) without lens hood
Number of Diaphragm Blades
9 (rounded)
Quick-Shift focus system
Yes
Hood
PH-RBC82
Model No.
26390