HD PENTAX-FA 50mmF1.4
A standard lens, featuring the latest, high-grade, multi-layer HD Coating to deliver clear, high-contrast images
This single-focus standard lens features the latest, high-grade, multi-layer HD Coating, which effectively reduces the generation of flare and ghost image to deliver clear, high-contrast images of the subject, even in demanding lighting conditions such as backlighting. Designed as an interchangeable lens for use with PENTAX K-mount digital SLR cameras, its larger-diameter optics cover the full-frame image circle of K-mount cameras, despite its compact dimensions. When mounted on a PENTAX digital SLR camera body, it can be used as a 50mm standard lens in the full-frame format, or a 76.5mm medium-telephoto lens in the APS-C format. With a full-frame camera, it provides an angle of view close to that of the human visual field, making it an ideal choice for a wide range of applications, such as snapshots, scenic images and portraiture.
 Included Accessories : Lens Cap O-LC49, Lens Mount Cap K

Features / Specifications
HD Coating to enhance imaging performance
The lens incorporates the PENTAX-developed, multi-layer HD (High Definition) Coating. Compared with conventional multi-layer coatings, it improves light transmittance while reducing average reflectance in the visible ray spectrum. This means that it can deliver clear, well-defined images with minimal flare and ghost images, even under demanding lighting conditions such as backlighting.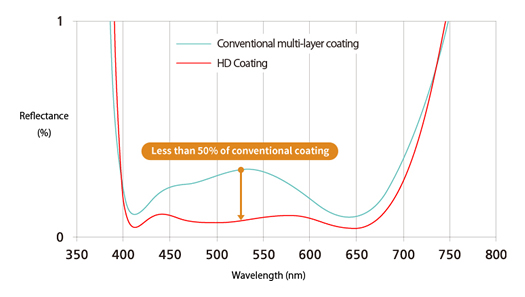 Simulated ghost images in backlight*
*These images are captured at open aperture, and are simulated using the exclusive software.
SP Coating
Water- and grease-repellent SP (Super Protect) Coating has been applied to the front surface of the lens, making it easier for the user to wipe off water or stains.
Distinctive image rendition
Thanks to its large F1.4 open aperture, this lens captures images with a very shallow depth of field. Its eight-blade diaphragm control mechanism produces a soft, natural bokeh (defocus) effect from open aperture to F2.8, and also minimizes the streaking effect of point light sources.
New exterior design
While retaining the dimensions of its base model — the smc PENTAX-FA50mm F1.4 — this lens features a totally new exterior design, similar to that of the latest DA and D FA series lenses. This makes it a perfect match for K-series digital SLR cameras.
Compatibility with older cameras
Thanks to the aperture ring installed on the lens body, and the coupling mechanism with the camera's motor-driven, in-body AF system, this lens is designed to be fully compatible with older K-mount digital SLR cameras and film-format AF SLR cameras, allowing the photographer to retain all camera functions of these models.
【MTF Chart】
Geometric optics MTF (MTF calculated without referencing the effects of light diffraction phenomenon)
F1.4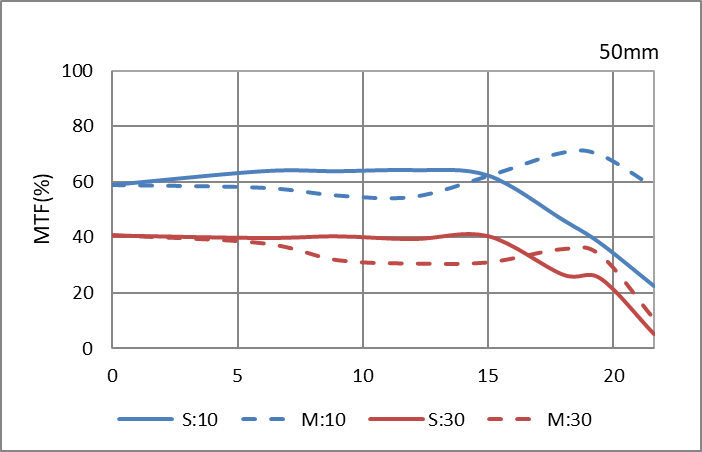 F4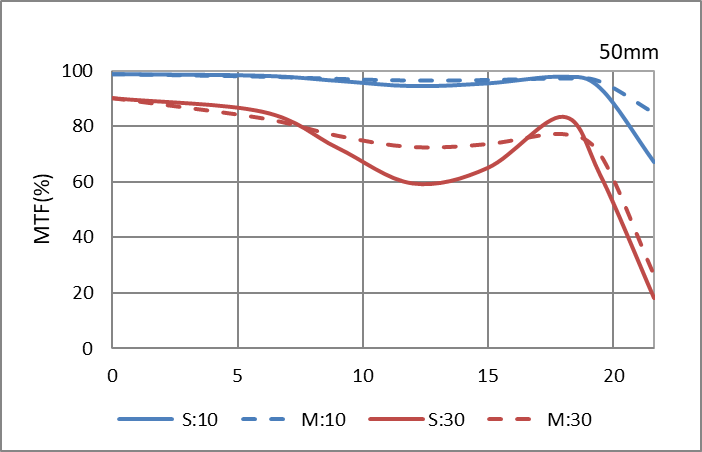 F8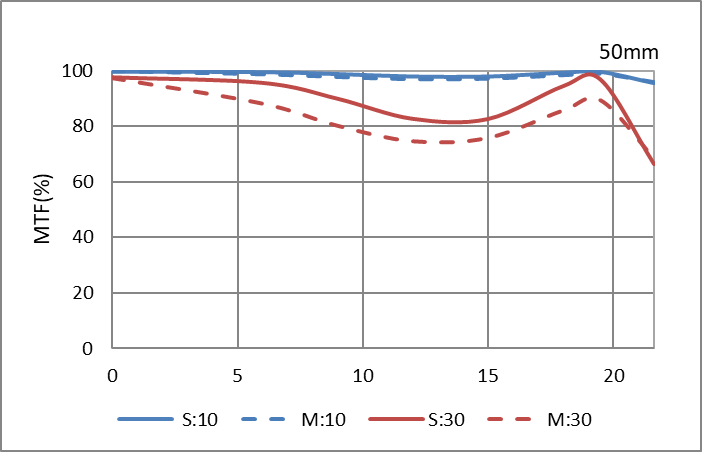 Wave optical MTF (MTF calculated referencing the effects of light diffraction phenomenon)
F1.4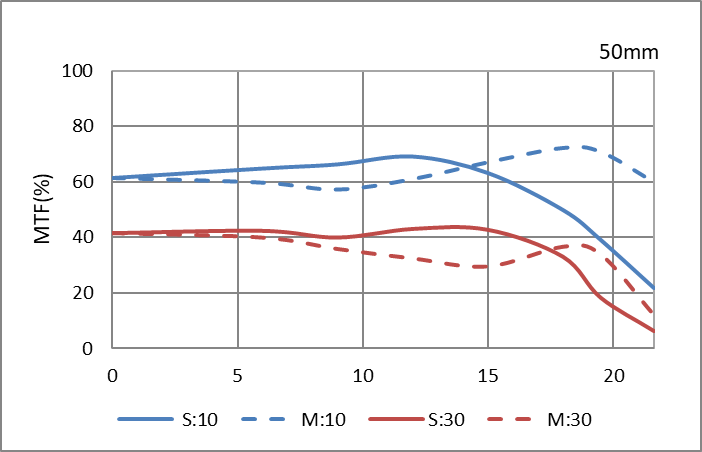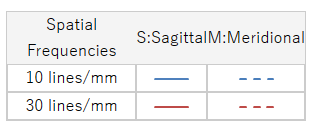 Since it is impossible to avoid light diffraction phenomenon on the actual lens, wave optical MTF is more realistic.
However, geometric MTF is appropriate if you want to compare only the effects of geometric aberration correction on MTF.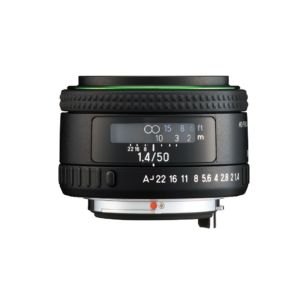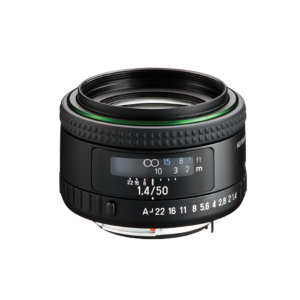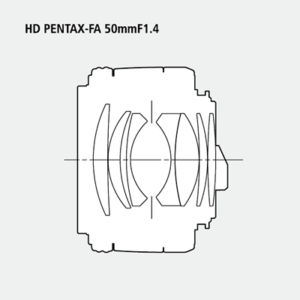 HD PENTAX-FA 50mmF1.4
Focal Length
50mm
Equivalent to 76.5mm in 35mm format
(when attached to PENTAX APS-C size DSLR cameras)
Maximum Aperture
F1.4
Minimum Aperture
F22
Lens Construction
7 elements in 6 groups
Angle of View (Diagonal)
47°
(when attached to PENTAX 35mm full-frame SLR cameras)
31.5°
(when attached to PENTAX APS-C size DSLR cameras)
Mount
KAF
Minimum Focusing Distance
0.45m (1.48ft.)
Maximum Magnification
0.15x
Filter Diameter
49mm
Diaphragm Control
Fully automatic
Number of Diaphragm Blades
8
Rounded diaphragm (50mm:F1.4-F2.8)
Aperture Ring
Equipped
Tripod Mount
N/A
Lens Hood
RH-RC49, PH-RA49 (not included)
Lens Cap
O-LC49 (included)
Lens Case
S70-70 (not included)
Maximum Diameter x Length
approx. 65mm x 40.5mm (approx. 2.6in. x 1.6in.)
Weight
approx. 223g (approx. 7.9oz)
Temperature
-10°C~40°C (14°F~104°F)
Humidity
85% or less (no condensation)
Included Accessories
Lens Cap O-LC49, Lens Mount Cap K
Others
HD Coating
SP (Super Protect) Coating
Compatible Converters
A1.4X-S, A2X-S, HD PENTAX-DA AF REAR CONVERTER 1.4x AW*
* The maximum aperture is set at F2.4
* When mounted on K-1 series, the image size is automatically cropped to the APS-C size.
* Please apply the latest updater of Digital Camera Utility 5 when you handle images taken by this lens on Digital Camera Utility 5. In case the software version is old, the name of this lens can not be displayed correctly. Digital Utility 4 and below can not display the name of this lens correctly.
Sample Gallery
Sample Gallery
Aperture: F2.8, Shutter speed: 1/125sec, Exposure compensation: 0EV, Focal length: 50mm, White balance: Daylight, ISO sensitivity: 100, Finishing touch/Custom image: Bright, Captured by PENTAX K-1 Mark II

Aperture: F2.8, Shutter speed: 1/4000sec, Exposure compensation: 0EV, Focal length: 50mm, White balance: Auto, ISO sensitivity: 400, Finishing touch/Custom image: Bright, Captured by PENTAX K-1 Mark II

Aperture: F5.6, Shutter speed: 1/320sec, Exposure compensation: 0EV, Focal length: 50mm, White balance: Daylight, ISO sensitivity: 100, Finishing touch/Custom image: Bright, Captured by PENTAX K-1 Mark II

Aperture: F2.0, Shutter speed: 1/125sec, Exposure compensation: 0EV, Focal length: 50mm, White balance: Daylight, ISO sensitivity: 100, Finishing touch/Custom image: Bright, Captured by PENTAX K-1 Mark II