The PENTAX PF-100 ED features a large 100mm objective lens for bright viewing under all light conditions. Featuring a straight-line optical barrel design, extra low dispersion (ED) optics incorporating Lanthanum Crown glass elements and waterproof construction, the PF-100 ED provides durability and optimum optical resolution.
Features
Housed in a lightweight magnesium-alloy body, the PF-100ED spotting scope features the time-proven porro-prism optics and an extra-large 100mm objective lens incorporating ED (Extra-low Dispersion) glass elements to produce a sharp, clear image with minimal chromatic aberration. Its straight-line optical barrel design makes it easy for you to locate the subject. The scope barrel has an American-standard 31.7mm-diameter eyepiece receptacle, which accepts one of six optional eyepieces of different magnifications to satisfy many different viewing requirements. This receptacle also has a dust-shielding glass to make the scope barrel airtight and waterproof (rated JIS Class 6).* Coupled with a nitrogen-injected barrel, this unique mechanism prevents the internal fogging caused by sudden temperature changes.
Because of its superb image quality, interchangeable eyepieces and airtight body construction, the Pentax PF-100ED Spotting Scope can be used for a wide range of subjects and performs flawlessly even under demanding conditions in the field.
Built-in lens hood to cut excessive light and keep the objective lens free of dust and rain
Effortless focusing operation using an easily accessible focusing knob
Built-in tripod socket with click-stop rotation mechanism
Long 20mm eye relief for easy viewing — especially for those wearing eyeglasses
Rubber housing for protection against shock and damage
Pentax offers six optional interchangeable eyepieces for the PF-100ED Spotting Scope to meet individual requirements: five fixed-focus XL-type models with magnifications of 22.5, 30, 45, 60 and 90 times, and one zoom model offering a magnification range of 26 to 78 times. All these eyepieces are commonly used for astronomical telescopes and renowned for their outstanding image reproduction.
Pentax also offers the PF-CA35 Camera Adapter, which converts the PF-100ED into a 1250mm F12.5 super-telephoto lens for use with Pentax K-mount 35mm SLR cameras.
* The Pentax PF-100ED is not designed for underwater use and should not be submerged in water.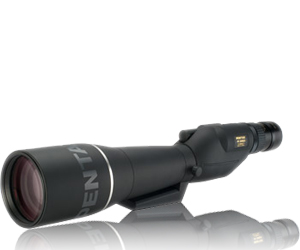 Objective Lens Cap Model No. 70936
Eyepiece Lens Cap Model No. 70937
Case Model No. 70941


Spotting Scope
Objective lens caps
Eye Lens Cap
Case