The PF-65ED II (straight-line type) and the PF-65EDA II (slanted type) spotting scopes offer a high-level balance between exceptional image performance when viewing with the eyes and image quality for conducting zoom photography when connected to a digital camera.
Features
Optical quality – Newly designed optical structure using ED (Extra low Dispersion) glass on the objective lenses. It minimizes colour aberration.
Choice of straight type or angle type —
The PF-65ED II is a straight-line type that is easy to use and enables for quick subject spotting. This type is convenient for observations while in motion.
The PF-65EDA II is a slanted type where the eyepiece is slanted at a 45-degree angle, enabling for viewing of subjects that are at elevated heights in a relaxed posture, without the need to look up.
Indication line for aiming is available on the built-in hood – You can catch the object quickly and easily.
Easy eyepiece attachment. – Sleeve is American size (31.7mm diameter). Insert the eyepiece in the sleeve and fix it by tightening the collet.
Waterproof construction (JIS Class 6) – Dustproof glass is used on the eyepiece attachment part. Inside is airtight structure and also nitrogen gas is filled to avoid dew condensation of the inner glass coming from the sharp difference of temperature.
Built-in lens hood protects the lens from dust and rain, and prevents inner reflection, etc., by cutting extra light beams from outside the field of view.
A focusing knob has been placed in the middle of the top part of the body, allowing smooth and quick operation with either hand.
Rotating tripod collars (click stop type) – The body can be rotated even on the tripod for easy observation and shooting. The rotation is 90 degree both right and left with click stop by 45 degree each.
Whole rubber housing to protect the body from shock.
Can be used as telescopic lens for a camera with a focal length of 780mm when the PF-CA35 adaptor (sold separately) for attachment to single-lens reflex cameras is used.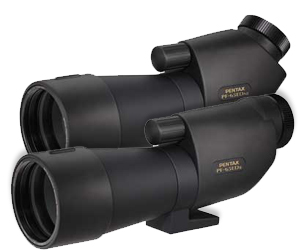 Spotting Scope
Objective lens caps
Eye Lens Cap
Case